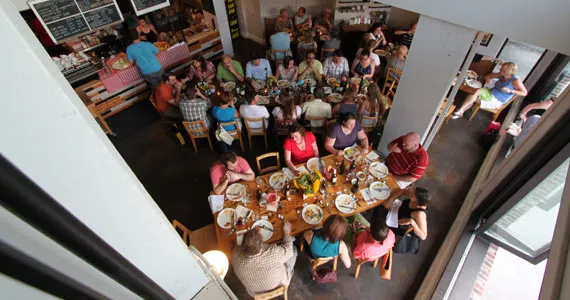 An overstuffed calendar is never a terrible thing, but for food events in town, it can result in under-attended events.
Over the next few months, you can gorge yourself on events. The Fall Wine Festival and last weekend's Port of Wines Festival lead into this coming weekend's Food Truck Rally, City Harvest, Devour: The Food Film Festival, Gold Medal Plates, Made With Love, Dine By Design and smaller events like dinners like Taste of Nova Scotia's Two Chefs, Two Takes of Nova Scotia Food one-off dinner, TIBS's monthly Family Dinners, Ratinaud's The Kitchen Table and the new monthly dinner club at Seasons by Atlantica, At the Table with chef Luis Clavel, which was supposed to launch last Friday, but was cancelled due to low reservation numbers.
Clavel is a singular talent in the culinary scene, one of a small number of chefs who has an active interest in modernist cuisine. While the regular menu at Seasons doesn't offer more than a hint at his love for molecular gastronomy, the dinner club will offer a way for him to flex that muscle to an interested audience.
Though not many made reservations for this first go, Clavel doesn't believe interest isn't there---he concedes that there were issues with timing and marketing. The Port of Wines Festival was the same weekend, and Clavel's own travels out of town in the month prior meant that he lacked a way to ensure the event had traction.
"With so many events happening at once it can be challenging for everybody to be able to grasp everything that's happening in the city," says Clavel. With the event relying almost solely on social media---a common marketing choice these days---their voice may also have been lost in the ephemeral clutter. "I think social media has its uses," says Clavel, who's planning another At the Table for late October. "But is it 100 percent the best way to achieve publicity? No. I think next time we'll put an ad in the paper."
George Christakos from Brooklyn Warehouse has seen the same struggle with populating smaller-scale events. In six years of scattered events, he says some were "bursting at the seams, and others ending up so-so when it comes to attendance."
Christakos cites the Titanic dinner that Brooklyn Warehouse hosted in April as one of their most popular events. "Not only did we create original graphics for posters and handbills, but the internet was leveraged heavily via our blog, Facebook, and Twitter accounts," he says. Some additional media attention and word-of-mouth from staff also helped. "Ultimately it needs to be a multi-front marketing campaign to get the word out to as many people as possible and keep the event top of mind."
Renée Lavallée has seemingly had nothing but good luck since launching the TIBS Family Dinners. Like Ratinaud's Kitchen Table, the Family Dinners have the wider base of a retail audience partially built in, and the homey, community-based atmosphere sets it apart from many pop-up events. "We are more like having dinner at a friend's place, than going out to a restaurant," she says.
A multi-format push using social media has really worked for TIBS events. "Plus, word of mouth is huge," says Lavallée. "People have to keep in mind that if you have a really good dining experience, one that is unique, they will tell their friends, who tell their friends, and so on."
"Our heart and soul goes into creating and executing these events," says Christakos. "Hopefully as our food culture continues to grow more and more people are going to be supporting the restaurants pushing the boundaries by attending such events. I see it as a win-win as the consumer is going to have an amazing time all the while helping to bring more attention, awareness, and viability to our culinary and agricultural landscapes."
---
At the Table with Luis Clavel: @seasonsatlantic
Brooklyn Warehouse: @brooklynhalifax
TIBS Family Dinner: @feistychef, @twoifbyseacafe