I have been taking long walks out of town, following my road through Pueblo Nuevo, through Barrio San Jose, to Zooave, Dulce Nombre and La Garita. I started stopping in at Restaurante Mariel for a Coca Light and bathroom break, and the women who work there began getting to know me and little-by-little we began joshing around. Soon whoever served me just got out the bottle of Coca Light and a glass with ice (but no straw) without asking me.
He estado tomando largos paseos fuera de la ciudad, siguiendo mi camino a través de Pueblo Nuevo, a través de Barrio San José, a ZooAve, Dulce Nombre y La Garita. Empecé a parar en Mariel en el Restaurante de la Luz y la Coca ir al baño, y las mujeres que trabajan allí comenzó a recibir a conocerme y poco a poco, comenzamos bromeando alrededor. Pronto el que me sirvió acaba de salir de la botella de Coca Light y un vaso con hielo (pero no de paja) sin pedirme permiso.
The owner is Marcial Salas, a solid man in his mid-fifties who was recently written up in the newspaper La Nación, as part of an article about peole overcoming obstacles to success. Silas's obstacle was alcohol. He's served me once, getting instructions from the women. He brought me a straw.

El propietario es Marcial Salas, un hombre sólido en la mitad de sus cincuenta años que se escribió recientemente en el diario La Nación, como parte de un artículo sobre peole superar los obstáculos. Obstáculo Silas fue el alcohol. Me ha servido una vez, recibir instrucciones de las mujeres. Me trajo una paja.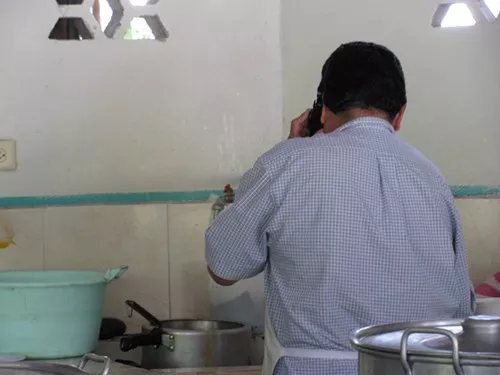 Marcial is a multitasker.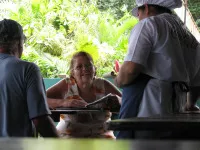 On the weekend there will be maybe seven women behind the counter, cooking up a storm and serving many, many customers. On weekdays, maybe two or three. Most often it's Lesbia and Modesta, and a third woman, Anna Maria. They all wear white shirts with Coca-Cola on the back, and puffy white caps which keep their hair out of the way. They work constantly.
El fin de semana habrá quizá siete mujeres tras el mostrador, la cocina encima de una tormenta y atender a clientes y en profundidad. Los días de semana, quizá dos o tres. La mayoría de las veces es Lesbia y Modesta, y una tercera mujer, Anna Maria. Todos llevan camisas blancas con Coca-Cola en la espalda, y la hinchada gorros blancos que mantienen el cabello fuera del camino. Trabajan constantemente.
Modesta Hernandez Solo Mode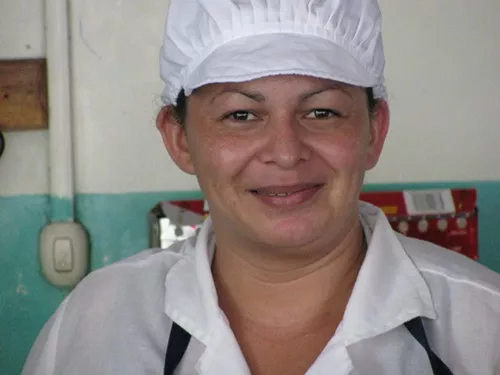 I think Lesbia is 34 and has three kids, and lives up the road in Barrio San Jose. She knows I am leaving in a few days, and we both feel a little sorry about it. Lesbia is that kind of friend who doesn't know much about you but knows you very well all the same. I have the address of the restaurant and I'll be sending postcards.
Creo que Lesbia es de 34 y tiene tres hijos, y vive por la carretera del barrio de San José. Ella sabe que yo voy por unos días, y ambos nos sentimos un poco de pena al respecto. Lesbia es esa clase de amigo que no sabe mucho sobre usted, pero usted sabe muy bien lo mismo. Tengo la dirección del restaurante y me va a enviar postales.