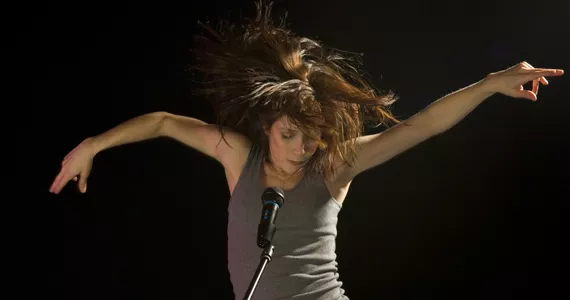 Carolle Crooks Fernando will perform a solo excerpt.
It's the flow of traffic. It's the city lights. It's the cyclists weaving among pedestrians who are crossing the Halifax Common.
It's everyday life.
That's how Sara Coffin describes dance. As the interim artistic director of Halifax's Mocean Dance, Coffin lives and breathes the art form. Now she's hoping to show Halifax how dance can be a means of expression for everyone.
"Dance is not just for dancers" is the motto behind Reverb: An Intermedia Dance Party, the company's upcoming annual fundraiser. It's an idea inspired by Canada's first-ever National Dance Week, which began April 22 and culminates with Sunday's International Dance Day, a longer-running celebration of the universality of this art form.
"We were interested in really connecting with our audience and connecting with a younger group of people," says Coffin, "because traditionally, Mocean's main production is in the theatre in a dark space where it's quite formal."
So they booked the colourful dance bar Pacifico for the April 26 event. Then they thought, why not challenge the definition of performance altogether?
Instead of restricting dance to the stage, Mocean Dance thought to have movement overwhelm the entire bar. It teamed up with NSCAD's media arts division to outfit the show with intermedia installations.
"The thing we're most excited about this event is the fusion," says Coffin, speaking of the not-your-ordinary-dance-party that Reverb promises to be.
Coffin and Mocean dancers Rhonda Baker and Susanne Chui will be using a pliable, folding metal sculptural creation by recent NSCAD graduate Martin Tonner as their stage.
"The sculpture is like a dancer on its own," says Tonner. "Depending on how you move it and how many people are interacting with it, it's going to move in ways you couldn't necessarily foresee."
The installation also gives the performers a chance to toy with the idea of framing in a physical and media sense, Coffin adds, thanks to cameras equipped to the sculpture that will screen their performance live to 15 TV screens around the bar.
In the more intimate Crave Lounge, improvisational performers will be creating their own music using Jeremy MacDonald's interactive "sound playground," as Coffin calls it. This NSCAD grad has developed a system whereby body movements trigger sounds. Coffin says the area will be open to everyone, allowing participants to see the cause and effect of their artistic (or simply flailing) actions.
Mocean Dance's artistic director Carolle Crooks Fernando will also be performing an excerpt of the piece Live From the Flash Pan, illustrating the relationship between a rock star and her audience.
It's a connection Adham Shaikh knows well. This internationally renowned and Juno award-nominated DJ will be bringing another element of fusion to the event with his world music mixes of electronic styles and jazz. "You get to be a participant, not just a witness or an audience," Coffin says of the Vancouver import's DJ sets. At 10pm, when Shaikh takes over the music, the audience becomes king on the dance floor.
Coffin says Reverb's combination of dance, music and media speaks to the way in which we are all "adapting and socializing in contemporary culture." Artsy translation: the event aims to show how we represent ourselves physically and digitally in many different forms.
Coffin hopes Reverb conveys the idea that while professional dance is worth celebrating, so, too, is doing the sprinkler with a circle of friends. "Dancing together in a room has a really powerful effect on the human spirit and psyche," says Coffin. "And it's lots of fun, of course."