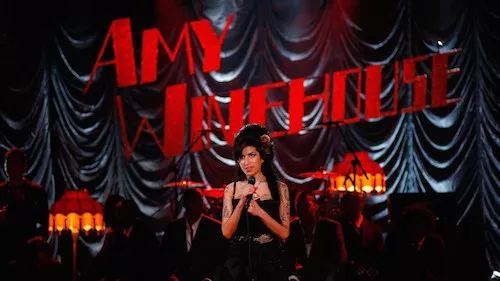 Amy
arrives in Halifax on the heels of Amy Berg's Netflix doc
What Happened, Miss Simone?
, an overview of the life of Nina Simone. Like Simone, Amy Winehouse was manipulated, robbed and ruined by the man she loved, one Blake Fielder-Civil, who brought her heroin in rehab and lives on while she expired as an international joke. Simone lived longer and died with more dignity, but the lesson of both films is clear: Don't fall in love with a shitty man. And, if you can help it—as Winehouse could not—don't be born to a shit, either. Asif Kapadia (
Senna
) has constructed a remarkable documentary that plays like a home movie—with no talking heads, just audio over intimate archival footage—starting when Winehouse was a teen and ending with her body being wheeled away after her drug-induced death at 27. Winehouse's potential—especially vocally, but also lyrically and as a human—is so apparent from minute one that it casts a pall over this story you already know the end of. Watching her record the transcendent vocals for "Back to Black" in a surprisingly scrubby studio is as thrilling as it is devastating. The less said about the men—her husband and her father—who helped kill her, the better.
Amy
is a tough watch, but you must.