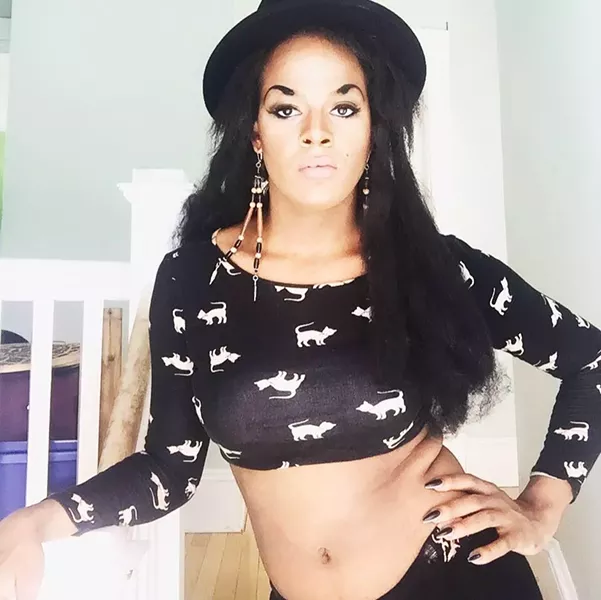 Jade Byard Peek peek performs Fried at Queer Acts.
Aquarius
Written and performed by François Macdonald
Directed by Sunny Drake

Aquarius is a tender one-act solo performance that follows two men in 1975 caught in a firebombed Montreal bathhouse. The two men have just met, one is closeted, the other is proudly homosexual. Their interactions begin with the meet-cute dynamic of a romantic comedy, but never stray far from the undertone of fear and danger of expressing queer love. Aquarius has some beautiful visual moments, and a charming performance from François Macdonald, especially with the Quebecois character, Louis. Although unambitious in covering new thematic territory, Aquarius is an earnest tribute to the past struggles of the queer community, highlighting how many things have and haven't changed in the past 40 years.


Fried
Performed by Jade Byard Peek
Mentored by Raven Davis

A recorded voice during Fried repeats the question: Can I touch your hair? Meanwhile, Jade Byard Peek sits in front of a mirror performing the seemingly agonizing task of straightening her own hair. Another voice tells the audience that 80 percent of all hair products are purchased by black women. Byard continues to straighten her hair. Watching her perform this single task onstage becomes an deeply engaging experience. It begins simply, then layers and nuance unfold, and it ultimately becomes a violent and dangerous act. Smoke emanates from Byard's hair straightener and from her hair, and she looks to be in pain. With its quiet intensity, Fried speaks volumes to the cultural notions of beauty that are imposed upon black women, and the reality this creates for many people.
Queer Acts Theatre Festival
Emerging Queer Artist Double-Bill
The Bus Stop Theatre
2203 Gottingen St.
Friday July 14th, 6:30PM
Saturday July 15th, 8:30PM
Sunday July 16th, 2:00PM
$15
Free rush ticket to queer youth 19 and under