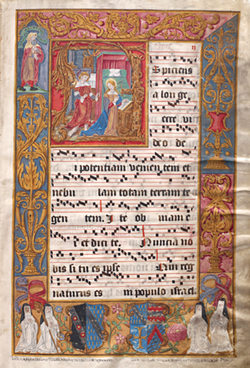 <i>Centuries of Silence: The Discovery of the Salzinnes Antiphonal</i>
Curator: Judith Dietz
Through October 29
Art Gallery of Nova Scotia, 1723 Hollis Street
It's not uncommon for art galleries and museums to be compared to churches, but the rooms filled with choir songs and religious portraits in
Centuries of Silence: The discovery of the Salzinnes Antiphonal
really do seem to transform the
AGNS
' third floor into a religious space.
The focus of the exhibition is the Salzinnes Antiphonal, an enormous illuminated choir book from 16th century Belgium. The Antiphonal sits in the centre of a dark room lit by a spotlight, the pages of the giant book turned to a beautiful gilded illustration of the Three Magi. Visitors can peruse the entire book with the help of a tablet, and can even hear the songs as they would have originally been performed.
Recounting the history of the Antiphonal and its journey to Halifax, the exhibition is dense with information but the overall effect is very peaceful—a welcome and air-conditioned refuge on the last steamy days of summer.