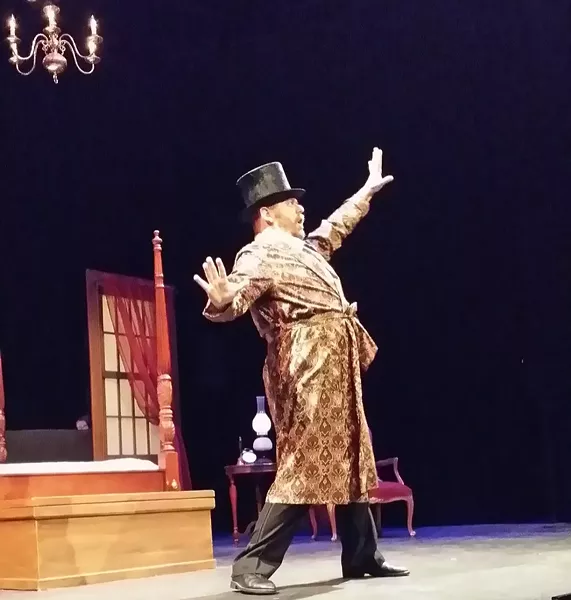 Rena Kossatz
Ian Gilmore performs in I Do! I Do!
I Do! I Do! is a musical about marriage that debuted on Broadway in 1966, was nominated for a slew of Tony Awards, and over the years has boasted such stars as Mary Martin, Carol Burnett and Rock Hudson, to name a few. It tells the story of Agnes (Amy Reitsma) and Michael (Ian Gilmore) and the ups and downs of their relationship spanning 1895 to 1945. The two leads are charismatic and deliver compelling performances, but their talents can only carry a barely passable script so far.

From the outset, the play relies almost entirely on jokes about the many differences between men and women, but never rises above lazily presenting outdated stereotypes. We are given jokes about women shopping or being aloof, and a song about how men get more attractive with age. Less forgivable is a line sung by Agnes about her arms being restrained until they hurt, sung upstage as a throwaway, either hiding the allusion to domestic abuse, or excusing it. At its best, I Do! I Do! is an innocuous amble into every imaginable cliché about marriage. At its worst, it is a regressive, sexist assertion of old-fashioned gender roles with no sense of contemporaneity.


Clearly, the play is a product of its time and can't be expected to portray contemporary views, but the question begs asking: what does it have to offer an audience in 2017? In Valley Summer Theatre's unfortunate production, this question is ignored and the material is presented in earnest, as if it was 1966, and somehow still acceptable for portrayals of chauvinism to pass as entertainment. It's not, and audiences deserve better.
I Do! I Do!
Presented by Valley Summer Theatre
Music and Lyrics by Tom Jones
Music by Harvey Schmidt
Directed by Pamela Halstead
Music Direction by Chuck Homewood
Al Whittle Theatre
450 Main St.
Wolfville
Runs until August 6
th
$24-$30