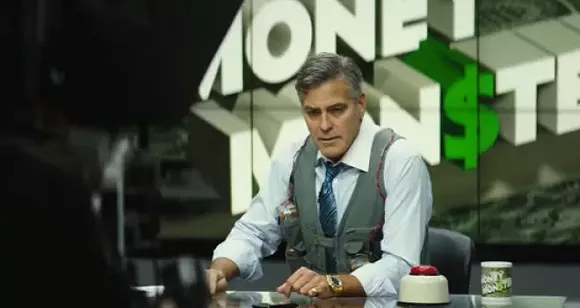 Just before the glut of summer moviedom comes a movie for grown-ups. Neither franchise entry nor reboot nor app-turned-feature,
Money Monster
is an old-fashioned Hollywood thriller starring a pair of vets—Julia Roberts and George Clooney—directed by another, Jodie Foster. Clooney is Lee Gates, a roguish asshole who hosts a gimmicky show called
Money Monster
, in which he fast talks and dances his way through stock tips for the commoner. Roberts is Patty Fenn, his director. When IBIS Clear Capital loses $800 million overnight—and its CEO Walt Camby (Dominic West) disappears on his private jet—working-class Kyle (Jack O'Connell) storms onto the show and holds Gates hostage via gun and bomb, demanding answers for his recommendation—"You said it was safer than my savings account"—and the production of Camby. The film is a taut 98 minutes, a veritable short in this age of action movies regularly kissing three hours, and even though they're in separate rooms, a terrific chance to see Roberts and Clooney vibe on their chemistry, which is loose and lived-in and not an ounce romantic. Foster's previous directorial outings, including the prodigy tale
Little Man Tate
and family drama
Home For The Holidays
, are small, human stories. Money Monster is a global tale—we're talking capitalism and the internet—but she manages to boil it down to the pair of relationships between her leads: Patty and Lee are like a platonic married couple; she's the only thing he's let past his guard. Lee and Jack are opposites in the world, but they need to find common ground or they'll both die.
Money Monster
moves fast, but stays with you.