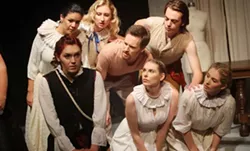 Sarah Ruhl is one of the best American playwrights working today, and Virginia Woolf is one of the best English writers of all time. Their forces combined make
Orlando
, a stage adaptation of Woolf's fantastical 1928 novel, a masterful experiment.
Director Matthew Thomas Walker, with the company of Dalhousie's Fountain School of Performing Arts fourth year acting students, tackle this ambitious play, and the result is a hell of a lot of fun to watch.
What happens in
Orlando
is complicated, and what it reflects in the world is even more so. The story is of a young nobleman, Orlando (Sophie Schade), who becomes a favourite of the queen, meets a Russian princess and falls in love, eventually flees heartbroken to Constantinople, then becomes, magically, a woman. As a woman, Orlando returns to London, falls in love with a sailor, then becomes disenchanted with the trappings of modernity. This all takes place over 400 years.
The play is manic, and this production amps that up with a cast of 14, constantly moving, constantly rearranging. Schade as Orlando is the only performer with a single role, with the rest bouncing around between chorus members and cameos in Orlando's misadventures.
With such a large ensemble, the performances are inevitably uneven, but the quick pace of the play forgives many things. The live music, played by a rotating selection of the cast, was an excellent touch. Orlando never leaves the stage, and Schade is compelling to watch throughout. A standout supporting performance comes from Ursula Calder as Orlando's maid and a chorus member, who has a mischievous spark that is hilarious and charming.
Orlando
is a great play and this ensemble of students bring it to life with much success. It is strange, queer, fiercely feminist, and a great showcase of some emerging Halifax talent.

Virginia Woolf's Orlando
Adapted by Sarah Ruhl
Directed by Matthew Thomas Walker
David Mack. Murray Studio
Dalhousie's Fountain School of Performing Arts
October 10-14