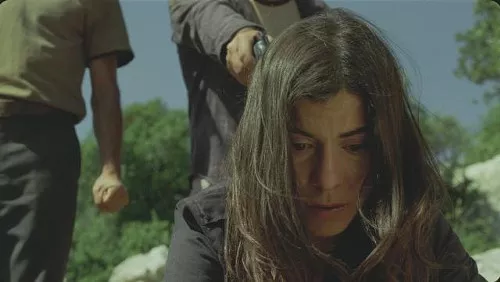 Incendies
Thursday September 23rd, 7pm, Oxford
Earlier on the day this film screened at the Oxford, it was named as Canada's submission for the Oscars' Foreign Language Film category. It already received Best Canadian Feature at TIFF this year.
Following that announcement, which caused excited exclamations and applause to ripple from the floor seats to the balcony, the screening of Québécois director Denis Villeneuve's follow-up to his last feature, Polytechnique, commenced.
Based on the play by Montreal playwright Wajdi Mouawad, this film traces a Lebanese-Canadian family's tortured history.
Jeanne and Simon Marwal are twins living in Montreal, facing the immediate emotional aftermath of their mother Nawal's death, an experience shaped and intensified by letters and instructions she's left for them with her employer, Jean Lebel (Rémy Girard), a notary, executor and family friend.
As instructed, the twins go to Lebanon in search of answers to the questions, abstractions, in their mother's writing about her identity and history, their own as well.
Essentially Incendies asks when one's story begins and ends, when taken in the context of family, a great and powerful mythological collection of stories. The rationale, commission and consequences of actions are shared across generations. In that sense, as the film states, birth and death are hardly beginnings and endings.
As Narwal, Lubna Azabal carries this film. She contains all the elements of her character without dropping out of her role. She's a young and rule-breaking lover, a young mother, a political student, a victim and participant in Lebanon's decades-long civil war, a driver and passenger to the country's history, an immigrant and single mother. A case could well be made for a best actress Oscar nomination for Azabal.
Mélissa Désormeaux-Poulin balances her performance as Jeanne between a contemplative, wide-eyed innocence and demonstrations of power and fearlessness. She's an able supporting cast member. It's great to see Rémy Girard in a, perhaps, stately instead of letchy or goofy role and his difficulty articulating his love for his employee's family is endearing and help builds empathy in the viewer. Simon, played by Maxim Gaudette, is perhaps the least developed or dimensional character. He broods and lashes out to begin with, but goes relatively quiet for the rest of the film.
Perhaps the biggest criticism, what keeps a very good film from being great, is the layers and layers of revelation. Without offering any foresight (the film should be seen), there's a very clear point where the point is made. The film need not go further, but it does.
If one feels at first brow-beaten, the feeling doesn't last.