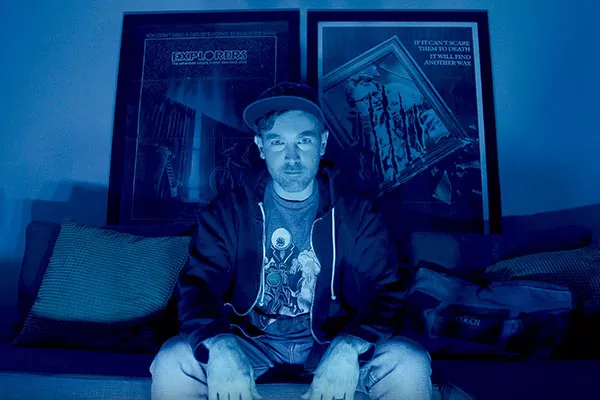 Wordburglar album release + DCAF kick-off
Friday, August 17, 9pm
Jacob's Lounge, 106 Portland Street, Dartmouth
$7

Things are about to get nerdy when rapper Wordburglar (AKA Sean Jordan) visits Halifax this weekend. Combining his love for hip hop and comic books, the Halifax ex-pat comes home to kick off a coast to coast tour to support his upcoming album Rhyme Your Business.
"It's pretty straightforward," says Jordan of the album. "It's about telling it like it is and rhyming what you know, and if that comes out sounding nerdy, that's just who I am."
And that's significant coming from someone who spent years trying to find himself as an artist. Inspired by the '90s mixtape stylings of KRS-1, Public Enemy and Rakim, Jordan began writing rhymes in Grade 5 as DJ Jazzy Jordan, later deciding upon Wordburglar to signify the "hot" quality of his rhymes. "I've always been a word-nerd," says Jordan. "I was always reading comic books, and it came out as these crazy rap songs."
Taking his drive further, the former Strange Adventures employee released his first album in 2005, becoming a college radio success. Since then he's stayed consistent by releasing an album every two years, leading the Toronto-based rapper to Rhyme Your Business this September.
"It's about keeping it real, not putting on a front and staying true to yourself," says Jordan. He's is on a nationwide tour beginning in his hometown coinciding with the Dartmouth Comics Art Festival launch party Friday at Jacob's Lounge. Attendees will hear Wordburglar material from upcoming and previous releases, freestyles and a bit of witty banter. "It's definitely comic book-themed, so I'm sure we'll get a little bit nerdy," he says.
Ultimately, Jordan hopes he can add a little joy to listeners' lives. "I think it's my best album yet and I'm excited for people to hear it," he says. "I hope they nod their heads and crack a smile."