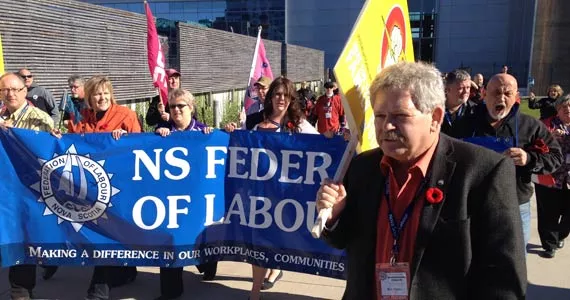 Tony Tracy
Rick Clarke was first elected president of the Nova Scotia Federation of Labour in 1989.
Labour Day weekend was a time to enjoy summer's wrap-up, and a holiday to give Canadians the opportunity to reflect on how far workers' rights in this country have come. Rick Clarke, departing president of the Nova Scotia Federation of Labour, has led an organization advocating for fair treatment of workers and an improved standard of living for their families. He's planning to retire in October.
How would you assess workplace safety and its enforcement in Nova Scotia these days?
There are still unsafe workplaces. At every Day of Mourning ceremony in Nova Scotia and at every other opportunity, we talk about how hard the labour movement fought to win approval in Parliament for Bill C-45, the Westray Bill, which amended the Criminal Code of Canada to prosecute and jail employers who don't protect the lives of their employees. We want the government of Nova Scotia to utilize the Westray law to achieve this. Health and safety of all workers has to be [employers'] top priority.
Regarding public sector unions in this province, what challenges do you foresee between today and the next Labour Day?
I see more of the same if the McNeil government continues with its anti-worker, anti-union strategy. It is painfully apparent the Liberal government is trying to sell the austerity agenda to scare Nova Scotians, so when he says there is no money people will buy in. But all Nova Scotians will pay the price as more and more workers, especially youth, will leave [here] because our wages for public sector jobs are not competitive. Even more worrisome is privatization, which means more focus on profit at the cost of health and safety.
Many Nova Scotians aren't bothered by certain groups of public employees being barred from walking out or ordered back to work during a labour dispute. Any comment?
Public-sector workers provide valuable services but are often the brunt of unfair government cuts. Also, it is not always money that causes labour disputes. More often than not, it is because pensions or benefits are being taken away. We need to remind the public that the government's attack on public sector wages, rights and job security is not the way to move this province forward. These needless attacks will have a negative impact on local and the provincial economies, especially in small-town/rural Nova Scotia.
The 1992 Westray mine disaster was the worst industrial accident in this province during your tenure. What do you think of when you remember the lessons of that tragedy?
Since May 9, 1992 to May 9, 2015, 606 workers have died in Nova Scotia at, or because of, work. It makes you question what we have learned out of the Westray disaster. With the passing of Bill C-45 in 2004, Canada has some of the strongest health and safety laws in the world, yet they are not used enough nor fully embraced. Laws are there, enforcement is not. My copy of the Westray inquiry report is a very dog-eared yet poignant reminder of a tragedy where no one was held responsible, and that tragedies like this can happen again.
You're retiring next month. Do you have plans?
I am retiring from coming into the office every day, but certainly not from the things that motivated me to get involved and help make a difference in the lives of workers and their families. I will be around.
Interview conducted and edited by Michael Lightstone