Makeup artist, jewellery designer, vlogger and beauty influencer Ray Kadiri (AKA Rayraykad) is a by all accounts a striking individual. Tall, gorgeous and cooly fashionable, the unassuming Tim Hortons where we meet suddenly feels like the place to be as she sits down and applies a quick coat of Fenty Beauty Gloss Bomb.
Kadiri's makeup is understated today, but her Instagram is an explosion of colour. Think gold shadows, luminous highlighters and graphic eyeliner designs in all the colours of the rainbow. Blazing sunrise hues in pinks, purples and reds—some real sailors take warning shit—cover her eyelids while lips and brows are represented in every unconventional shade you could imagine. Shimmering appliqués. Rhinestones. Face art. Kadiri's looks are perfect for fantastical occasions—festivals, film sets, dreamscapes, or, you know, walking around campus.
"When I was in university I would do my makeup after classes, I was just doing my thing," she says. "One thing I've been obsessed with for a long time is perfecting my eyeliner, so that's what I'd play with. I'd put on dramatic eyeliner, not graphic like what I do now but thick liners and purple lipstick. People would ask where I was going and I'd say nowhere, I just want to look good."
Born in Nigeria, Kadiri then moved to Dubai and, in 2013, Halifax. "Moving to Nova Scotia was the main catalyst for me deciding to really become myself," she says. "It's so different from where I had lived. It's open. The other places I've lived are very anti-LGBTQ but also very anti- being yourself. Coming here helped me learn who I was, opened my mind to the idea that I could really and truly become this person who I always had as almost a fictional character in my head."
Kadiri's creative entrepreneurial spirit led her to designing jewellery—handmade chokers at @slaylikerayboutique, with a new website in the works—and posting her much-complimented bold makeup designs on her personal Instagram. She also vlogs, sharing tutorials and discussing skin-care routines and products. Last summer, Allure named her one of the five best Instagram beauty accounts to follow and recently, she was added to the lauded Anastasia Beverly Hills PR list—meaning she gets boxes full of new ABH products to try.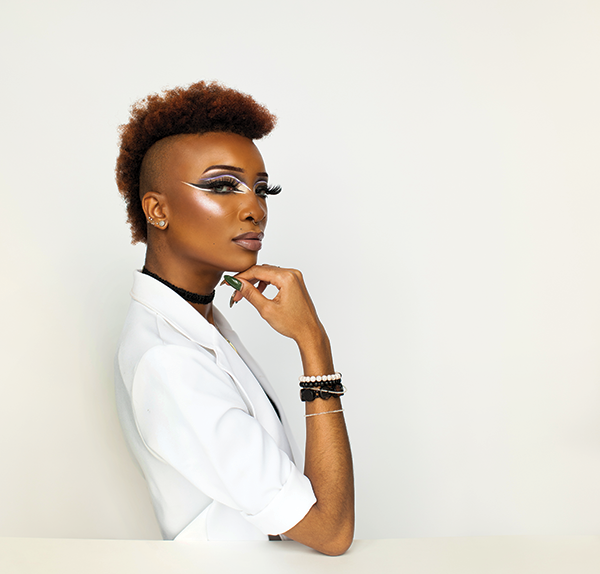 A makeup artist by day, Kadiri has been doing makeup for clients since she was 14. Her slogan, Beauty to Empower, reflects her desire to bring out the best in people. "I want to bring as much value as I can to the world," she says. "I always wanted to be my own boss and do my own thing. I'm really happy I'm getting the chance to dive into that—try it out and see how it works for me. Although I keep saying I need a manager, my partner laughs and says she doesn't think anyone can manage me.
"I think I'm meant to help people. In one way or another, I think I will accomplish that. I love makeup so much, it's like therapy for me but I also love doing it for people," she says. "I love teaching people, I love the one-on-one, making them feel confident, like a million bucks. Clients say 'I wish I could take you home with me' but you can take the knowledge home. I always ask, 'What notes can I give? What emails can I write? What do you need from me to make you feel great?'"
Scrolling through Kadiri's Instagram, reading her honest captions, you get a sense of how important makeup as self-expression is. It's her art, and her designs change with her moods, but it's always her.
"It's a lot of mind explosion going on," she says. "I want to be a real ray of sunshine, to let my light shine through."