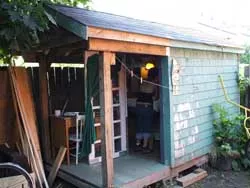 Although people winding up in sheds for two weeks is more likely to happen on an episode of
Criminal Minds
, these artists are doing it voluntarily.
Shed season is starting up again for the Roberts Street Social Centre, who will happily welcome 13 lovely new tenants starting May 9. Each of these tenants will spend two weeks in the shed (it's a lot less ominous than it sounds), creating an art project.
A list of residents and their projects, taken from the Social Centre's press release, are below:
May 9 - May 22: Elizabeth Groeneveld (Toronto, ON) Elizabeth will work on a zine called The Sex Project; Or, How I Got Into Women's Studies, a memoir about a controversial high school project on sex. By connecting memory, bodies, archives and politics, Elizabeth hopes to connect personal stories to discussion of social justice. She teaches at the University of Guelph in the recently cut Women's Studies Department.
May 23 - June 5: Shannon Willmott (Ottawa, ON) Shannon will screenprint a series of images that contrast weapons of colonization and native plants of North America, exploring how violence and beauty coexist. Shannon is an Ojibwe & western European artist who uses art to explore the inner battle between skepticism and hope.
June 6 - June 19: Walker Mettling (Providence, RI) Walker will be illustrating a comic-collaboration with a middle-schooler, as part of the Providence Comics Consortium, a group that teaches sequential art to kids at the public library. Walker works with the Comics Consortium, directs plays by elementary school kids, curates ultra-short story events, and has a fiction-based radio show.
June 20 - July 3: J. Cheyenne Hohman (Lexington, KY) Cheyenne is compiling interviews with folks who run zine libraries and archives, and will visit the Anchor Archive to do some interviews for a zine that will become both a resource for existing zine libraries, and a guide for folks who are interested in starting one themselves. Cheyenne has a zine distro called Copy That! and has made several zines including Neckmonster, OllyOllyOxenFree, Ask First and Empower Your Sexy Self.
July 4 - July 17: Mary Green (Fredericton, NB) Mary will work on a few issues of Black Out, a free mini-zine that critically re-arranges images and text from mainstream print media. Having tackled several Fredricton free papers, Mary will use Halifax papers to articulate media analysis.
July 18 - July 31: Coral Maloney (Winnipeg, MB) Coral will work on The Preserving Project (I Love You This Much), a participatory performance that uses traditional food preserving techniques to transform non-food stories and objects, providing a space to talk about food, nature, memory, nostalgia and colonization. Coral is an artist, theatre-maker, and urban farmer.
August 1 - August 14: Simon Rabyniuk (Toronto, ON) Simon will go on a series of daily walks through Halifax, recording movement in a journal that will be used to create a hand drawn map of the city. Simon is a visual artist who has worked on several projects relating to walking, exploring how individuals become aware of their surroundings.
August 15 - August 28: Claudia Tremblay (Quebec, QC) Claudia will work on a zine of drawings and collages entitled The Yoga's animal position book, looking at human and animal bodies with humour, irony and kitsch. Claudia is an artist working with drawings and textiles who makes a zine called Claudia fait du charme.
August 29 - September 11: Ana Armengod (Columbus, OH / Mexico) Ana is going to work on a graphic and written zine about experiences in Mexican punk and radical communities. She organized Ladyfest Mexico for several years and is an artist who contributes to zines and magazines.
September 12 - September 25: Marlaina Buch & Ross Macauly (Victoria, BC) Mariana will develop her performance music project Hunter Rapper which humourously and critically explores food politics and systems, while Ross will produce a zine of recipes from memory with hand drawn lettering. Both of them will look specifically at lobster and fisheries, celebrating and examining local food knowledge.
September 26 - October 9: Anne-Francoise Jacques (Montreal, QC) Anne-Francoise will use homemade microphones, cassette recorders and homemade cassette loops to record sound samples around Roberts Street and create an ephemeral sound installation in the garden. Anne-Francois is co-founder of the sound art collective les-son 666 and makes sound pieces for radio and experimental animations.
October 10 - October 23: Caroline Paquita (Brooklyn, NY) Caroline will work on drawings for a comic-based zine Womanimalistic and a zine revolving around "punk health" creating dialogue about health and self-care with information and humour. Caroline is an artist, amateur herbalist, and musician who keeps bees and chickens.
Best of luck to all the artists!