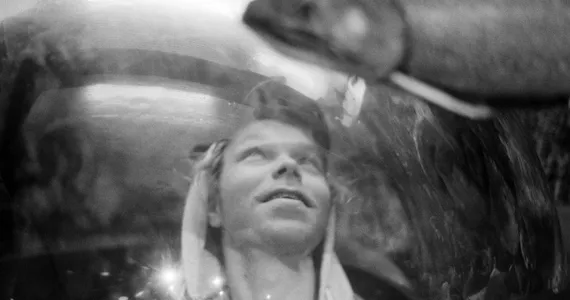 If the OBEY Convention is all about showcasing "damaged music and art" from around North America, then no better example is Eric Copeland, a 16-year veteran of the American experimental landscape. Originally from Brunswick, Maine, he currently makes his home in New York City---along with his band, seminal noise-punk art rockers Black Dice.
Copeland is chatting from New York while riding in a sweaty van to pick up gear. He's just returned to the city after a stint of shows, touring in the same DIY way he always has. "We're still a couple guys in a van---we spend all of our time together when we're on tour, like right now," he says, as they zip through Manhattan streets. He says he's pretty stoked to come to our city to play a headlining spot this weekend. "I've never been to Halifax," he says. "That's why I'm excited, I just want to check it out."
After releasing some recent seven-inches, he's readied a full length, Limbo, dropping in July on Underwater Peoples. It's possible the audience will hear some of the new material on Saturday. Though with Copeland's shows, you never know what to expect. They're loosely planned, with only a vague destination in mind. "I know where I'm going and how to get there---as long as it sounds good, you're playing to the room." The Khyber show features Copeland performing at the end of the night, which is something new to the seasoned musician. "Usually I'm early in the bill, a little less of a deal," he says.
Eric Copeland's music is almost alien sounding, like mid-period Animal Collective---not too polished, arty and heavy on the psychedelic samples. With that comes an almost infantile sense of exploration, and he seems to embody this unwavering thirst for new sounds. "I think there are times I can get into goofier ideas," he says. "It's different each time I guess, until I've taken it to [where] it's more than the sum of its parts." His recording process is far from formulaic, and at times will cross over into Black Dice territory.
Online music chin-scratchers Pitchfork have taken a shine to Copeland recently, featuring songs from his new record almost weekly. He told me that he's ambivalent toward music criticism, "I don't avoid it, but I don't Google myself," he says. "It's a weird world---everyone has a voice, and everyone wants to make their opinion noticed," he adds, waxing on the blogosphere at large. Indeed, the humbled Copeland seems to prefer having his music and art speak for itself, downplaying the critical praise and acknowledgement he's received.
Copeland says he has low expectations for his upcoming show, though a sibling provides a solid endorsement for Halifax: "My sister lived there for about a year, and only had nice things to say about it."
Eric Copeland w/Shearing Pinx, Strong Boss, J fm, Catbag, DJ B Wagg & General Purpose DJ, video manipulation by Robert Drisdelle, Turret Room video installation by James Gauvreau, Saturday, June 1 at the Khyber, 1588 Barrington Street, 10pm, $10/$12