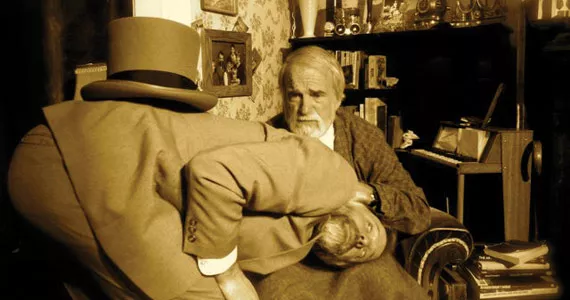 Zuppa Theatre's Slowly I Turn is steeped in family warmth.
I walk into Java Blend early in the morning. Ben Stone and his dad John welcome me with big hugs and hot tea. Both bearded and bright-eyed, the Stones exude a familial warmth that wraps around me like a soft woven blanket. Their casual leans and finish-each other's-sentence-style closeness is contagious. After my first sip I feel like I'm part of the family. And that's the point.
The Stones are going to be proffering this familial feeling to audience members at Zuppa Theatre's latest creation Slowly I Turn. The father-son team, accompanied by Jess Lewis, will be performing this vaudeville piece in one act in Ben's living room.
"It's essential to have it be a site-specific show, to give it that home and that family warmth kind of thing," Ben says. "To have people sitting with us as were sitting in the living room hanging out will bring a casualness to it that is essential to the heart of the piece."
The piece, directed by Graham Percy, is full of heart. It chronicles every element of family experience, reflecting on love and life and death. John turns to Ben: "Did you already tell her about the ileoscopy?" To which Ben replies softly, "No, no I hadn't." John then recounts how since 1992 he has suffered from a variety of health conditions, including a heart attack and colon cancer.
It was John's illness that sparked Ben, Zuppa Theatre's founder and principal actor, to realize a lifelong dream of his: performing a play with his parents.
"We were at East Side Mario's," Ben says. "Which is like the loudest, most garish place, and I was trying to tell them about it over the music saying, 'Anyway it's about you dying,' and my mom just started laughing and she said, 'Oh dear don't be silly', and Dad was like, 'Absolutely, yes.' It was hilarious."
John is happy to be going back to the stage. In his university days, he was a member of the King's Theatre Society and more recently he and Ben put on a production of Hamlet at Armbrae Academy, where they have both been teachers. John is now retired and happy to try something new.
"At King's you just had to learn your lines, there was no direction at all. The Zuppa process is absolutely marvelous but you can tell that I'm a sub-amateur." Ben interrupts, "That's absolutely not true at all." He explains how as a kid he would see his dad and his uncle Carmen doing Jerry Lewis impersonations. Vaudeville was a huge part of their family life, the first films they ever saw were Abbott and Costello and Charlie Chaplin, all the classics that John's father had showed him.
And it was those bits and skits that formed the foundations of Slowly I Turn.
"The title comes from a classic vaudeville sketch that duos would do," Ben says. "They would go out and just riff and do their bits. There's a loose structure which is kind of classic to the feeling and lightness of vaudeville---a lot of it is the spark between the two."
The Stones have sparks in spades. They have a lifetime of intimacy to work with and it will show in their performance. Though the play is about grappling with the reality of death, it is also a rich and jovial account of the lightness of life.
"It's not morbid," says John. "It's reflective and poignant."
"I hope that people come away feeling that sense of warmth and love and family," adds Ben. "Feeling the way I felt in that home growing up. That's sort of my goal, showing people what that was like."
Slowly I Turn, 6267 Duncan Street, Preview: Thursday, March 15, 8pm, $15, Opening: March 16, 8pm, $20/$25, Matinees Saturdays at 2pm; no shows Sundays or Mondays, To March 31, 20 seats per show. Book ahead at slowlyiturn.eventbrite.com or 489-9872.