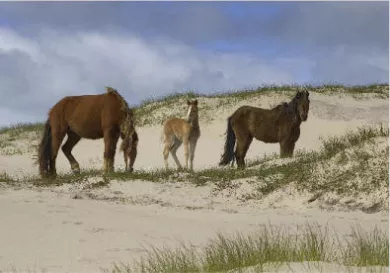 It's official: Sable Island will become a national park reserve. Environmentalists are welcoming the decision because it will raise the level of protection for the island's unique biodiversity and extremely fragile sand-dune ecosystems. Well known for its population of wild horses, Sable is also significant for having the largest dunes in eastern North America, the largest colony of grey seals in the world, and several species at risk including the roseate tern and the Ipswich sparrow.
The federal and provincial governments have agreed to introduce legislation to prohibit oil and gas drilling from the surface of the island and out to one nautical mile. However, Chris Miller of the Canadian Parks and Wilderness Society says sub-surface drilling beneath the island remains a possibility.
Sable's new status would also not rule out a grey seal cull, (see "How to kill 220,000 seals on Sable Island," May 27, 2010). Officials say, however, that any decision to conduct a slaughter would have to be preceded by public consultations.
Sable Island is being designated a national park reserve pending the outcome of land claims negotiations with the Mi'kmaq who have asserted aboriginal rights and title to all of Nova Scotia.