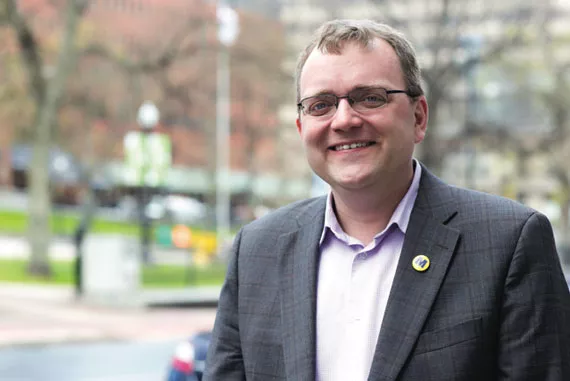 Waye Mason, Halifax city councillor, recently completed Master of Business Administration degree at Saint Mary's University Sobey School of Business
---
1
Enroll in a part-time MBA program because you want to
I held a Bachelor of Arts degree, and I was looking for more formal education at a higher/senior level. Also, the type of jobs I want to do as I'm getting older require some sort of Master's certification and higher-level business training.
2
Education becomes another part of your life
You get into a groove as a part-time student. I started in January 2011, and convocation was September 30 of this year. I took a year off for my first election, so it was about four-and-a-half years of schoolwork. Where it's different from a regular, full-time student is that the MBA became a part of my daily routine; it's present in your life at all times. I get up in the morning, with my mental to-do list: Get myself out the door, kids out the door, what do I need to do for today, and also what do I need to get done for the MBA. Add in that I attend class two nights a week, and it's busy.
3
Some sacrifices will be made
I haven't been to my in-laws' cottage in Pugwash for more than two years now, as I've had classes every summer, and wrote a research paper this summer. It's not ideal, but I don't regret it one bit, because the information I gained was invaluable, and I could immediately apply it to my everyday work.
4
The Sobey School understands your situation
The MBA is very flexible to people who are working, because it adds to the program to have students who are actually getting that real-world experience already. It's very rare—actually, I don't ever recall —a professor ever saying that you couldn't go on a trip for work, or a conference related to your work, as long as you stayed on top of the class.
5
You'll be tempted, but don't give up
A former grad of the part-time MBA gave me some wonderful advice: Halfway through, it seems like it will never end, and that's where people tend to quit. Yes, it's a long process, but you have to recognize that after the halfway point, you can see the end coming closer and closer, so it becomes easier, and the payoff is totally worth it. SMU is a great university and I'm more proud of this MBA than any other formal education I've obtained.