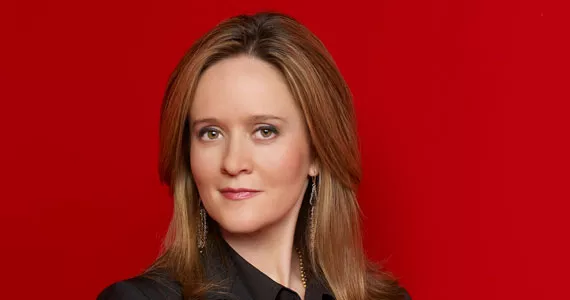 "How did this happen, babycakes?"
Better men
American women now surpass men in both workforce and education statistics. "Men run just four...hundred and eighty-five of our Fortune 500 companies, and just three branches of government," Bee reports. She hangs out with Better Men, a male bonding group, in their wisdom circle: "When does everybody start masturbating?"
Best line: "How did this happen, babycakes?" she asks sociologist Warren Farrell.
Awkward moment: Bee: "So we need to give our sons permission to be pusswads." Farrell: "Yes, yes, some type of term like that." Bee: "Something puss-related." (4:10)
Watch the video here
---
Piano boogie nights
Bee visits Jonah Falcon, who has a 13.5-inch penis and, despite his struggles as a wannabe actor, refuses to do porn. "What makes you special, Jonah?" she asks in a sit-down. "Well, I have a gaming blog that's really high in Google searches." "Uh huh." She has him audition in his underwear and visit a virtuoso pianist to help him realize the gift he possesses.
Best line: "Do you understand if this man had a fraction of the penis that you have, do you think we'd be sitting in a room full of pianos right now? No offense."
Awkward moment: "Jonah has a 13-and-a-half-inch penis," she tells the pianist. "It is like a python being eaten by an anaconda." "I don't want to see it, it's OK," he replies. (3:10)
Watch the video here
---
Grocery wars
Bee hits the Park Slope Food Co-op, which had proposed a ban on products from Israel (it didn't happen). She picks up a few things, stands in some lines and talks to a delightful nutjob outside. "We believe that the food that we eat, and the food that we sell, and the food that we buy," says Liz Roberts of Members for Boycott Divestment Sanctions, "should not come at the expense of Palestinian human rights." "So if Palestinians are to determine their own fate, they are going to look directly to the Park Slope Food Co-op."
Best line: "We are talking about a grocery store, right?"
Awkward moment: Roberts suddenly understands she is part of a joke. "Oh, you guys, I see what you're gonna do." (4:28)
Watch the video here
---
Equality in the military
Senior Armed Forces Correspondent Bee pulls a chair up to Jon Stewart's desk for a chat on women in the military, after a reporter opined that women in the armed forces should expect to be raped. First apologizing to the men of America for "alllllll this" (her boobs) Bee then giggles, tosses her hair and goes on to reason: "Female soldiers, gal reporters, lady doctors, teacherettes, aviatrixes---that's just the way it is when you're a woman intruding in a man's world. We expect to be paid slightly less, and raped slightly more."
Watch the video here