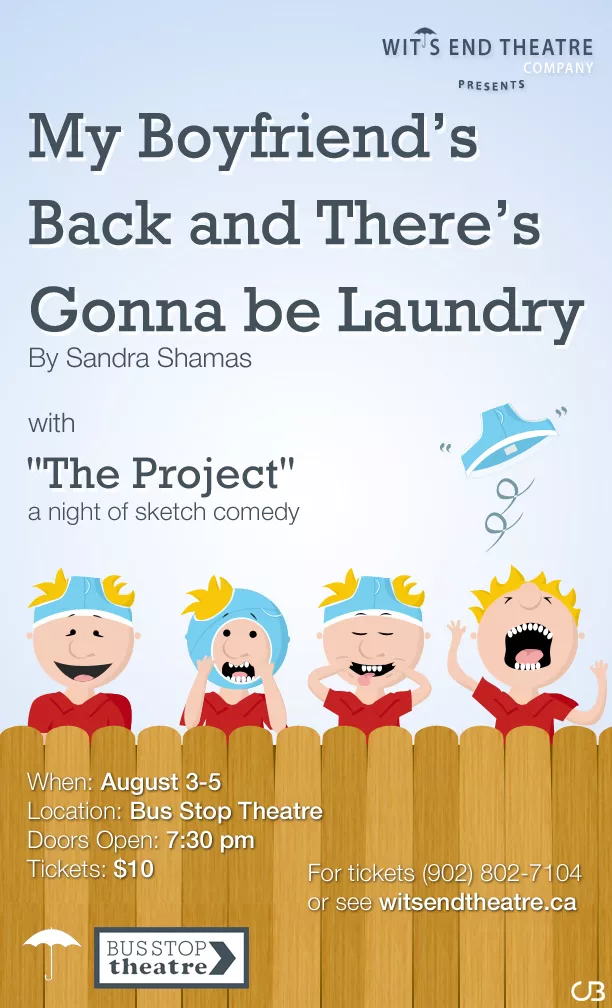 You want info? You got info.
We're bound by fate to
Sandra Shamas
.
She's a very funny actress/comedienne from Ontario, and she wrote the first part of our upcoming double-bill production My Boyfriend's Back and There's Gonna Be Laundry, which is on from Aug. 3 to 5 at the Bus Stop Theatre.
We've been putting the process of writing original work on the backburner, partly because Griffin's script is being slowed down by his fascination with fast-moving shiny things, and partly because we wanted to take advantage of the summer to put on funny plays.
Enter Sandra. When we first talked about producing My Boyfriend's Back, we looked up the comedienne's current project. Turns out, it's a show called Wit's End.
Fate.
In a way, we've been working on her show for almost five years. Both Liz and our director, Chloe Hung, worked on a 20-minute excerpt of the show in high school. But there's fate here, too: they only did the show after two ne'er-do-well actors--who are talented and good friends and won't be mentioned here--abandoned the project. So once Shruti and Peter (whoops!) left the production team, Chloe and Liz performed just a little of it, and didn't think they'd get the chance to do the whole thing. That is, until now.
Fate.
But we've had to overcome a few difficulties that have threatened to turn the performance (have we mentioned it's on from August 3 to 5 at the Bus Stop?) into a Sandra Sham-bles.
First, it's a little dated. It premiered in 1989, so you might think it'd come across like a schlocky early-'90s-stand-up-comedienne routine. But like all things born in 1989, it's actually funnier now. We get to see how people in the '90s thought they were funny, and spoiler alert: THERE WILL BE PERIODS (see last post), and those are hysterical.
Second, it's a one-woman show that's not quite a standup routine and not quite a play. Which made us ask: how are we going to pull this off? The answer: by playing it with a little of both. Chloe and Liz have been careful not to try to replace the original Sandra while still playing to the very funny stand-up moments.
And finally: the rights. When you want to perform a play or any artistic work that isn't your own (and you want to charge money for it), you have to secure the performance rights. For long-dead artists, this isn't a problem. For the more recently expired or still-kicking artists, securing rights is usually done through their representative agency, many of which can be picky about how you present the work in question.
But what happens when neither is the case? No, Sandra isn't a half-dead zombie playwright, to the best of our knowledge. In our case, Sandra had never given the rights to anybody—she's the only one to have ever performed her work (legally). So there was no system in place through which we could get the show rights.
Our producer, Kat Shubaly, tried to contact Sandra anyway she could: by email, her agent, by phone—and at every turn, we kept asking ourselves, "where in the f***ing world is Sandra Sham-Diego?!"
Well, Facebook knows where she is.
Yes, Facebook, that most professional form of social media, knew exactly where Sandra was. At first, she wasn't sure of how to give the rights herself (this being new to her for this particular play). Then we got the following message, with what our lawyers (imaginary) tell us is legitimate and legally-binding language:
"Do the show. You have my permission. I'd like to know where and when it is. How's that?"
That'll do, Sandra. That'll do.
Like we said: fate.
Love, Liz and Griffin