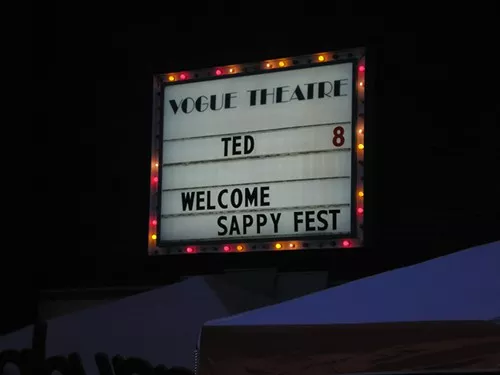 This weekend, car loads of compatriots, wagons of wonderful merchants, vans full of families and campers full of campers made their way to Sackville, New Brunswick to take part in the seventh annual Sappyfest: an independent music festival that takes place over three days in the heart of the heart of the heart of the charming town just across the boarder.
Like every single music festival I've ever attended, Sappyfest is overwhelming. Each day is so jam packed with places to be, things to do, songs to sing and be heard, that you become worn out. That being said, the places are all relatively close together, the things are magical and the songs you sing are compulsive, the songs you hear powerful.
Leading up to the festival, there was much speculation and excitement regarding a 'secret show'. Due to last year's surprise appearance by Arcade Fire, hopes were high: the three main rumors I'd heard before departing for the fest were Neil Young, Bruce Springsteen and Jeff Magnum. Throughout the weekend, rumours degraded from absurd and hopeful to absurd and nightmarish (the bulk of which involved a series of fantastical supergroups revolving around national treasure Raine Maida).
Here's the real, honest to goodness truth: unless you count the slyly named 'Secret Show' beer on tap in the main stage tent or the renegade, improv performance by new-wave pantaloons Duzheknew in the bushes overlooking the porta potties Sunday at midnight, then there was no secret show this year (though some quipping drunkards took Duzheknew's playful skronking to be a surprise performance by some other Canadian pranksters, The Shuffle Demons).
So there was no big ticket surprise, but those sorts of things are always above and beyond at a festival like Sappyfest. Here is a partial list of things that made this past weekend yet another one of the best festival experiences I've ever had care of Sappyfest: