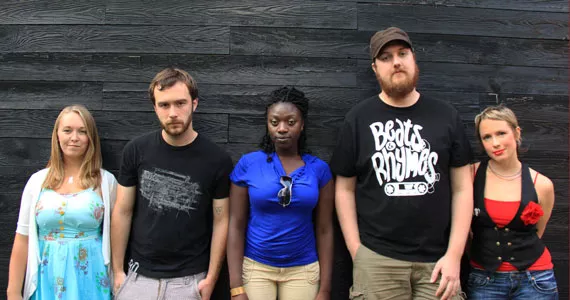 Patrick Campbell
The members of the Halifax Slam Team speak their minds.
Jordan Thomas is looking to the future. That future includes him and members of the Halifax Slam Team delivering poems and diatribes at the Canadian Festival of Spoken Word in Toronto, running October 11 to 15. The present, however, is preoccupied by one thing: money.
The team, consisting of team captain Thomas (AKA JPhat), as well as Michael McGuire (AKA Hermit of da Woods), Stephanie Laurent (AKA St. Ephanie), Laura C Burke and Abena Amoako Green (AKA Roots & Rhythm) have been working hard to find ways to finance their upcoming trip to CFSW. The group has been performing at various open mics around town--- including the respected Word Iz Bond events held at The Company House ---as well as selling recordings and putting on various events to help raise the funds to get them to Toronto.
But Thomas and his crew are looking to not just raise funds, but to raise the profile of spoken word in HRM.
To kill two birds with one stone, the Halifax Slam Team has started doing speaking engagements in local high schools in the area. Speaking in schools not only helps the team in getting their ideas out there---the proceeds for the speaking engagements are helping to fund their upcoming trip---but also helps them spread the word to a newer, fresher audience.
"I wish I had known about spoken word when I was in school," says Thomas. "Having an art form there that I could just do would've done me some good."
McGuire echoes the sentiment: "If anyone needs to be made aware of an outlet like spoken word, it's the kids. Kids deal with heavy things, maybe heavier than adults, at least perceptually," he points out. "Spoken words is a way of grappling with that---you can say whatever you want. Get it out. Free yourself."
It's that ability to speak and to inspire others to speak that gets this team moving and shaking. It's also what will help them when they head out to CSFW in Toronto, according to Ardath Whynacht. A four-time member of the Halifax Slam Team and winner of the 2006 and 2007 CBC Regional Poetry Face- Off, Whynacht believes in this year's crew.
"We've watched a few of these poets grow from their first open mic to the hotshots they are today," she says.
Whynacht is also a big fan of the work the team is doing outside of competing. "Hopefully the buzz generated by the Halifax Slam Team will draw youth to performance opportunities," she says. "Youth don't get enough opportunities to say what they need to say. The team is doing a great job."
The team's school outreach program has helped finance its upcoming trip to Toronto, and the team wishes to continue its work with youth. "After CFSW is done, we still want to get involved," says Thomas. "In other cities, there are youth slams and competitive slams, which is something that only happens here ever so often."
In the meantime, the Halifax Slam Team is gearing up for its trip to Toronto. The team recently put on a fundraiser at the Halifax Alehouse, performing their hearts out and selling copies of their recordings. The team will also be visiting more schools in HRM, but is working on more fundraising.
"No matter what, we're going," says Thomas. To sponsor The Halifax Slam Team or for more information on upcoming events, email halifaxslamteam2011@gmail.com.
---
CommUNITY w/POETS 4 CHANGE, Three Sheet and Halifax Slam Team members, The Company House 2202 Gottingen Street, Thursday, October 6, 7pm