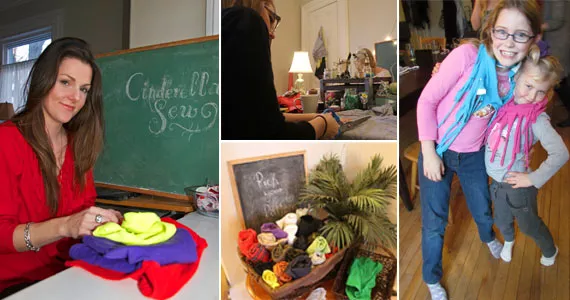 Laura Walton has a thing for rescuing used clothing. Her little home-sewing room houses stacks and stacks of various-sized, brightly-coloured cotton t-shirts just waiting for new life. A love of fashion and second hand duds lead Walton to start recycling and re-imagining used garments, and eventually her needle and thread lead her to Cinderella Sew. Her business not only demystifies the art of sewing---reminding people it's easier than you think to fix, or even make your clothes--- but uses only pre-loved fabrics (hence those stacks of shirts) in doing so.
Through private parties offering helpful tips, tricks and designs Cinderella Sew aims to help people (kids and adults) realize there's tons of life left in old fabrics and there's a lot they can do with, and sometimes without, a needle and thread. Dresses, shirts, pillows, tea towels and other accessories are just some of the products that are born out of Walton's teachings, she's happy to attend casual get-togethers, birthday parties and, she says, "any reason to get together and be creative." And it's only the beginning for the business---Walton's busting at the seams with ideas for after school programs and online tutorials.
Other than the necessary tools like scissors, thread and needles, Walton doesn't buy a thing for Cinderella Sew's get togethers. All of those old shirts? Every single one's been dug out of someone's drawers and donated. And she'll make use of every last scrap.
To book a party or donate clothing, check out cinderellasew.com
How to make a string scarf out of a t-shirt:
1) Take that big ol' cotton t-shirt that you never wear and chop the top off of it, cutting a straight line horizontally, just below the sleeves
2) Now you've got a new square of fabric to work with but first, you'll have to cut off the hem.
3) Cut a strip horizontally across the square (about an inch, or so, wide) until you're two inches away from the end. Stop there. Repeat over and over until your entire square of fabric is chopped into folded strips of fabric, kind of like a fringe. You see where this is going, right?
4) Gently tug on each of the strips until they stretch out to be longer and stringier and their edges curl inwards. Open it up, pull it over your head (with the un-fringed part at the back of your neck) and ta da! You just made an awesome accent scarf without buying a thing, or using a needle and thread.