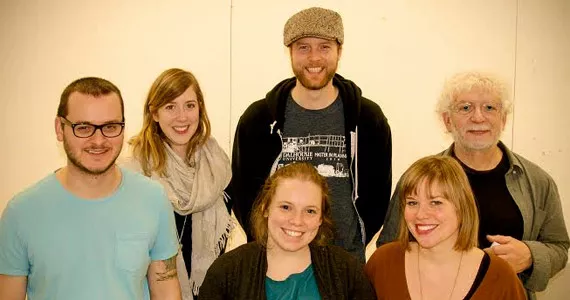 Ken Kam
SHIFT organizers Reid Shepherd, Sarah Ravlic, Daniel Bryce, Courtney Bonner, Caitlin Hinton, Frank Palermo (not pictured Eliza Jackson).
From March 11 to 14, Dalhousie's school of planning will host its annual SHIFT planning conference. This year, the focus is on the challenges and opportunities facing rural communities in Nova Scotia. Masters student and organizer Eliza Jackson took some time to speak with The Coast about what SHIFT is planning.
The Coast: Why this rural topic? Do you feel Nova Scotia's rural communities are in jeopardy?
It was kind of a combination of factors. It was definitely spurred by the release of the Ivany Report, and the trends presented in the report in terms of population decline and possible economic decline. That was something we wanted to look at. But also, there was just a lot of interest within our group to look at rural planning. Mostly because it's not something that's always on the forefront when people talk about planning. The past conference topics have been largely urban, so I think we wanted to change gears up a bit and focus more on the rural aspect.
We keep hearing about Nova Scotia's rural towns facing tough economic hardships. Is that part of what you'll be looking at?
It's part of that. The Ivany Report lays out what the challenges are that the rural communities are facing. So, that's kind of been laid out for people. What we wanted to focus on were more the opportunities that communities could explore in order to mitigate the projections that have been made for rural communities in Nova Scotia. Where there're opportunities for changing transformations.
What's Halifax's role as an urban centre in addressing these rural issues?
Well, we wanted to focus more on the rural context because within Nova Scotia there's a lot of discussion, a lot more focus on Halifax. But Halifax is really important to these rural communities because it does offer employment opportunities, as well as opportunities for retail and that kind of thing. It does serve as the larger economic centre for the province.
It seems like it'll be a largely urban crowd, looking at rural issues. Are you reaching out to people in those rural areas to speak at these events?
Definitely, yeah. We wanted to do a Pecha Kucha in Halifax and then do one in a rural community—so somewhere like Wolfville—and then have those run simultaneously. We want to have, either at the Pecha Kucha or as panelists, we want to look at having people speak who are working in these rural communities or working for these rural communities.
Everyone's still working on finding solutions to these issues, but what do you think will be the fix? Or is it too late to fix any of these problems?
I don't think it is too late. But I think it will depend on the communities. That's something that Ivany talks about in his report. There's a lot of responsibility on the communities to band together and make those changes for themselves. I don't think that it is impossible to turn it around, but I think it's important, these communities are still focusing on more traditional economic activities but also maybe looking forward for different or more opportunities in order to transform their current economic situation.