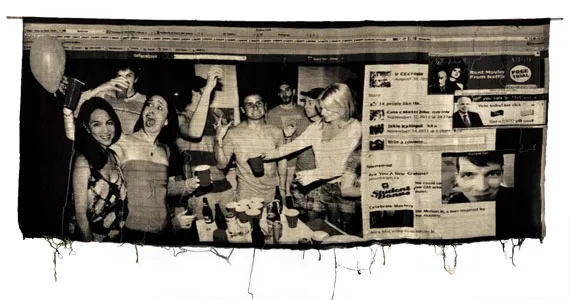 NSCAD's original name and its affinity for Queen Victoria aren't the only things imported from across the pond. Carly Butler, a Halifax-based artist and one of the organizers of the Khyber's Abandon Ship! Fine Art Showcase, started her studies at Central Saint Martins in London before transferring to NSCAD. She says that although the education she was getting at NSCAD was superior to what she left in London in many ways, she was "shocked at how little anyone seemed to care at NSCAD about the grad show."
"Just getting students to submit work seemed like pulling teeth," says Butler. "The problem, of course, is that no one really sees the benefit in terms of promotion or career development. We only have a handful of commercial galleries in Nova Scotia, and the university doesn't use the exhibition as a way to showcase student work to the broader international art world," she says.
Opening on Friday from 5-8pm, Abandon Ship! aims to change that. Modelled after a show for new BFA grads called Free Range in London, Abandon Ship! wants to provide exhibition opportunities as a small way to address the lack of exposure for Atlantic BFA grads. In its first year, this pilot project will showcase work from 11 students graduating from BFA programs in the Atlantic provinces--- namely Memorial, Mount Allison and NSCAD.
Butler says she wants an alternative to the familiar refrain Halifax hears from so many artists, and students in general, about having to move away to find work.
"As art students and graduates we might feel as though we're working in isolation, far from the Canadian art centres of Vancouver, Toronto and Montreal," she says. "But the exhibition really asks, 'Isn't it possible that we can create our own centre? Do we have to leave to find success?'"
Stephanie Yee, one of the artists whose work is featured in the showcase, hopes not. Yee graduated from NSCAD in December, and works at a shop in the Seaport Market.
"At this point I'm kind of on hold. This is the first time in almost two decades that I've been without the protective film of school and the identity of a student, so I'm kind of interested in discovering what it means to be a person," she says. Yee refers to herself as a time-based media artist and has a background in theatre, having once turned the Anna Leonowens into a "restaurant" where she sat and made 1,000 dumplings as a meditation on production and reproduction.
After she did an exchange study at Cooper Union in New York, Yee decided to return to Halifax and make a go of it here after she graduated. "Compared to a lot of places, there are really great opportunities here, but at the same time, after you graduate---and I'm sure it's the same with all Atlantic schools---everyone just leaves Nova Scotia," she says.
In the end what really drew Yee to Halifax was not just the art community, but a sense of community at all. "It's something that I really missed while I was in New York---it felt like everyone was really competing with each other for that internship or this show or whatever---versus here where you can have friends getting together and deciding to organize a show, not even for themselves but for other people," she says.
Butler hopes that Abandon Ship! will turn out to be more than a modest exhibition of 11 graduates from atlantic Canada. In keeping with a theme that seems to be emerging lately, she says it's an investigation into what it means to be an artist in Halifax. But more than that, Butler says, "It's a call to action for our art schools, our artists and our graduates."
Abandon Ship! Fine Art Showcase, To August 2, Opening June 28, 5-8pm Khyber Centre for the Arts, 1588 Barrington Street