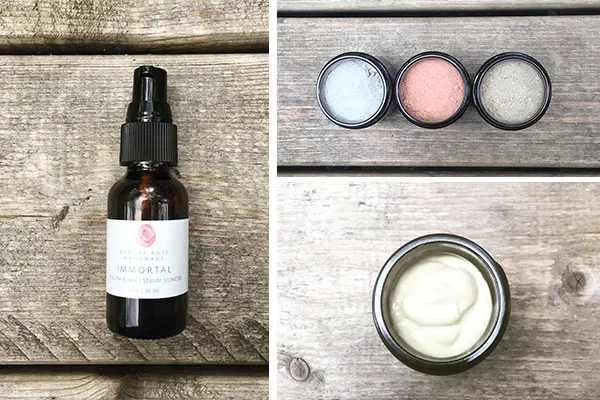 Jaana Kujala
knows a lot about putting your best face forward. After starting a career in film makeup at 19, she made the shift from prosthetics to esthetics and fell in love with skin health and wellness. As a holistic skin therapist, she studied skin nutrition and the clean, natural ingredients that jive best with various skin types.
"The most healing ingredients you can use for your skin aren't in most product lines," says Kujala, a self-proclaimed purist who uses ingredients like tamanu oil—an anti-inflammatory, anti-microbial, moisture-barrier-building seed oil— and prickly pear seed oil in her products. "With a lot of the skincare industry there's so much marketing that goes into it and a lot of those brands don't know what goes into skin health."
After spending a few years experimenting with her own creations, handmaking small-batch creams, masks and elixirs for herself, she's launched
Sunday Rose Handmade
, a line of organic, plant-based, cruelty-free products made in her south shore studio.
"The self-care product industry is not regulated by anything—a lot of companies do what's called greenwashing where you have two
percent
of an organic ingredient and have organic on the label," Kujala says, adding that Sunday Rose's inaugural 10 products are a minimum of 95
percent
certified organic and use GMO and pesticide-free ingredients. "Everything is really pure so you're getting all the nutrients right into your skin."
For now, your thirsty skin can get its fix via Kujala's
online shop
where she also sells holistic beauty tools, like jade rollers and brushes, and
withinUs
collagen products that aren't available anywhere else on the east coast. And if you'd like some face time with the line's creator, she'll be in Halifax for a pop-up next month (February 9, 1-3pm) at
Bhavana Yoga Boutique
(3063 Gottingen Street).