1. Remember that the waterfront isn't just for tourists
But it is a good spot to people-watch said camera-slinging visitors. Walk it, run it, admire it from the ferry, eat take-out from Canadian Bacon Cookhouse or The Shack (Queen's Wharf), check out Historic Properties (1869 Upper Water Street), rent wheels from I Heart Bikes (Sands at Salter) and appreciate your pretty harbour hometown.
2. Browse Bonanza, Biscuit General Store's (1661 Argyle Street) signature line that in just three seasons has become the store's second-best-selling line. Leaning a little bohemian, and a little rock 'n' roll, Wendy Friedman collaborates with makers in LA to design the beauties you'll find on the racks. "I have a definite love of colour —so we have lots of bright and interesting prints. It's exciting when I find a fabric that looks like things that the runway and high-end designers are doing, that I can offer at a friendly price."
3.3 See a movie outside
The SEO-unfriendly Outdoor Film Experience, or as we like to continue to call it alFresco filmFesto, launches this week for the 14th year running, bringing all Bullock movies with it. Bring your comfiest lawn chair to the Tall Ships Quay (the boardwalk at Lower Water and Morris streets) on Friday, July 18 at 9:30pm, and remind yourself how fucking amazing Gravity was.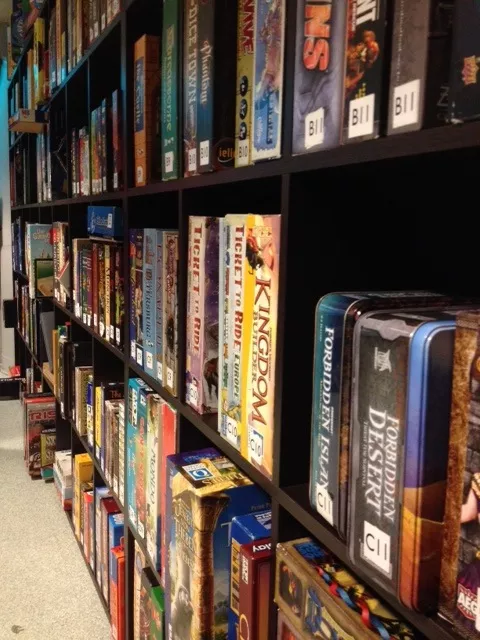 4-8.
Play hard at the Board Room Game Cafe (1256 Barrington Street)
This is quite possibly one of the most consistently fun rooms in Halifax. With a wall of hundreds of boxes of games, choosing your adventure can be tough. Game boss/manager
John Gallant
suggests you start with the following.
Ticket To Ride: Where you're the owner of a train and building the tracks between different cities, collecting points along the way.
Snake Oil: "I draw a profession or type of person, say a caveman," says Gallant. "Everyone else has a hand of nouns and adjectives, and have to make a two word combination to make a product. And then they have to make a sales pitch to me, a caveman, on why I'd like the product."
Click Clack Lumberjack: Gallant calls this one a "dexterity game" for "environmentally friendly loggers," where you swing your plastic axe to chip away the tree's bark without knocking it over.
Cockroach Poker: You have a hand of cards featuring gross creatures. Each player passes a card, face down, to a player of choice, telling them what's on the card (a lie or the truth). Fool the player into believing you and they keep the card, four of a kind loses and everyone else wins. I like those odds.
Word on the Street: A tug of war of words, perfect for spelling nerds. Flip the category card and try to brainstorm a word that relates, pulling letters to their side of the board before opponents can derail them by pulling them back.