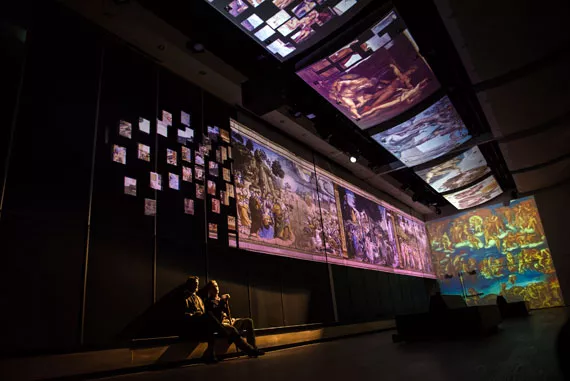 2b Theatre's Unconscious at the Sistine Chapel is a theatrical delight at the Stages Theatre Festival, playing through the fest's final weekend. It brings together technical magic, outstanding performances and a finely layered script filled with sharp, funny dialogue.
Playwright Michael Mackenzie imagines a chance meeting in the Sistine Chapel between two couples: Minna Bernays (Rosa Labordé) and her brother-in-law and possible paramour Sigmund Freud (Marcel Jeannin), and Nora Barnacle (Rebecca Parent) and her partner James Joyce (Tom Lute). Overlaid on this storyline is a present-day relationship between a young historian (Lute) and a powerful (slightly) older woman (Labordé) who disagree on how history should be framed.
Daniel Oulton's sophisticated projection design transforms the Central Library's cavernous Paul O'Regan Hall into a clever replica of the Sistine Chapel, and these projections combined with Johnny Cann's lighting and sound design allow for elegant transitions through time and space.
Lute gives a truly memorable performance as the naughty and inebriated Joyce, and Jeannin is a fabulous Freud—grave and detached yet with a twinkle in his eye. But it is Labordé and Parent whom I found most riveting. Both actors captured and broadcast the intelligence and spark of the women they portrayed—a spark that had been buried by history.