"My drink? It's Redbull, vodka, topped with a bit of orange juice and a bunch of limes," says
Tommy Kruise
. I ask him what he calls it. He looks at his whiskey glass: "I call it ... the piss."
For the next 20 minutes in the 'green room' of
The Seahorse
(mostly a storage closet with a couch and a sink in it) me, Tommy Kruise,
Weirdo Click
and a few other homeys talk about rap music — it's my point of entry into knowing DJ Tommy Kruise in the first place. Truthfully, the Montreal beat-maker is almost more notorious for his bombastic personality than his music, although since 2012, his musical talents have been noticed by some of the game's big names: picked up for a bunch of crazy
VICE
videos
, occasional
rap tours with
Ryan Hemsworth
and he was of course (most famously) co-signed by
A$AP Rocky
and
the late
A$AP Yams
.
In short, Kruise emerged out of Montreal clubs with his
trap tape
Memphis Confidential Vol 1,
an homage to the almost-tacky 90s-era Southern rap of
Three 6 Mafia
and its affiliates, on which Kruise admits he was raised. Soon he was producing for relatively underground artists from all over the fucking place — Oakland, Seattle, Chicago — while remixing Québécois pop and creating his own dreamy electronica that culminated on last year's
Fête Foreign —
a beautiful, compassionate and diverse compilation with the especially sick track,
"Day Ones,"
with
Earl Swavey
and
DJ Worm2G.
Since then, he's just been banging out remixes and emailing with people like
Kanye West
and
I don't think there is anyone else in the world like Tommy Kruise.
More than anything, it seems Kruise has an encyclopedic and immediate knowledge of all of rap music, which distinguishes an okay producer from an absolutely amazing one. I started really paying attention to him last year when I noticed his affinity
for
Rich Gang
, the short-lived rap group of
Rich Homie Quan, Young Thug
and Big Tymer
Birdman
and I was just as devastated
as Kruise was
when they split up this year. So because I also love Rich Gang and talking about rap, that's mostly all we did last night. Rare to find someone who loves RG so much.
So I ask "What do you think about Rich Gang getting back together?" A few nights ago,
Rich Homie
's DJ leaked some old Rich Gang tracks and they're better than anything Quan has released in months. "It's my dream," says Kruise (he's got a French accent, BTW), "It's my dream to see them back together, but I don't think so, they're both so hard-headed, I think it's never gonna happen. I cannot even listen to a Rich Homie Quan single, it's garbage. I give some of his mixtapes a listen and I'm like, ehhhhh it's so garbage. With Thug, they complete each other." As several people talk loudly in this stupid tiny room, Kruise is humming Young Thug melodies to himself.
"It's called
Rich Gang: Tha Tour
, but there was never a tour," he says, "Like, oh, we're doing this big tour, but there wasn't." It's hard to concentrate because everyone's yelling and I'm already drunk. Out of nowhere, Kruise says, "
Gucci
has to get out of jail." At that point, I fully love him.
The conversation turns to Kanye, and Kruise says he'll always be an old-Kanye fan: "I think Kanye fans are the worst." Someone asks Kruise what he's been playing lately: "A bunch of house and club music," although he still plays "
Lick My Nuts
." He sings a lot to himself. Then he's talking about snares and hi-hats and I'm talking to
Dave Hung
about
Kendrick Lamar
, and then
50 Cent
comes up and one guy is yelling about how 50 Cent sucks, and then we're
all
yelling about goddamn
G-Unit
, except Tommy who says, "Let's not elevate our voices over rap music, please."
Kruise is onstage for way over an hour. At one point, there's so many people onstage that the dance floor looks empty. He plays an eclectic mix — dreamy, club, trap, Young Thug tracks — and I'm all over the bar taking photos that didn't turn out. But it's fun. I'm high on the vibes of Tommy Kruise. At the end,
AUX Jennings
spits a few songs and when it's over, people ask me to take photos with Tommy. He's a cult celebrity because he is one hundred percent real, and real is very rare.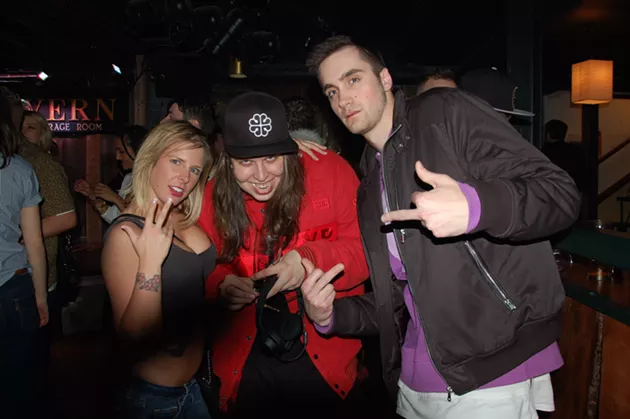 We go to a nice little party until the cops show up. When that's over, I walk Kruise to his hotel. We talk more about Rich Gang and we watch Young Thug's new video on my phone. I can't imagine what it's like being Tommy Kruise all the time, but being around him for one night was energizing.