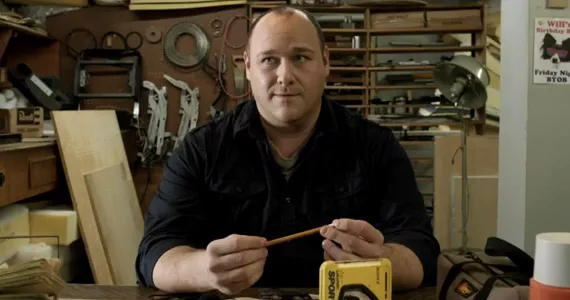 Peek into the wild world of movers in Moving Day
Mike Clattenburg's newest film, Moving Day, is a world of back-breaking labour and belly-busting laughs opening Friday. by Jacob Boon
Anyone who's worked on a film set can tell you there's plenty of physical labour involved in making movies, so it should come as no surprise that director Mike Clattenburg would feel an affinity for another back-breaking profession.
"I had hired movers a few times and I couldn't believe how hard they worked and the stress they were under," the Trailer Park Boys auteur says. "I hadn't seen a world of movers...I thought it'd be a great story world."
One no-hassle production later (save a root canal that "went awry") and the result is Moving Day, a bittersweet comedy following the trials of some guys who move furniture as played by Will Sasso (Mad TV) and Charlie Q. Murphy (Chapelle's Show).
Clattenburg co-wrote the script with musician Mike O'Neill, and the finished film presents a deft blend of blue humour with naked solemnity that's nevertheless not too far of a departure from the filmmaker's traditional tone.
Moving Day Opens Friday July 20, 7:30pmBayers Lake
"I'm always drawn to laughs and melancholy," Clattenburg says. "I like stuff that's realistic, and I like to do some different stuff, some more dramatic material, and not always chase the laugh, you know?"
But don't worry, there are plenty of laughs. And they happened on and off set.
"Mike encourages that," says Victor Garber, who plays the taxed, and taxing, furniture store owner.
Garber, an accomplished actor of 40 years who's been in everything from Alias to Will & Grace, says he was initially unsure if he would be able to fit within Clattenburg's comedic vision. But any nervousness wore off quickly on set.
"He loves to let the actors improvise to a huge degree," says Garber. "It was surprising for me, frankly. I didn't expect it to be as creative and as much fun as it was.
"Really, it was kinda like a little family...this odd little family put together."
Getting into character was also a breeze, helped along by a particularly perfect shooting location.
"Basically, you just walk in and you were there," says Garber about the film's Nieforth furniture location, which doubled for his character's store. "This set was so incredibly beautiful to be in, in an aesthetic sense."
Getting the longtime Dartmouth emporium to agree to filming was initially a bit of a challenge, says Clattenburg. But he knew the spot was necessary after stumbling through its doors looking for a coffee table.
"I was over in Dartmouth, and saw one of those great, old, classic Main Street stores," he says. "I walked in and it was a movie set. It's a very interesting place and I thought, 'I gotta shoot something here.'"
Garber was so enamoured with the store's owners, brothers Bradley and Glenn Nieforth, that he ended up taking snapshots.
"The two men that own that shop, the brothers, I took photographs of them because they were fascinating and should have been documented," the actor says. "They were really interesting guys."
"It was a very detailed, comprehensive situation that Mike created," he adds. "It was very easy to fall into the world."
Clattenburg is already busy prepping for a third Trailer Park Boys film.
"We're pulling it all together and it looks really good," he says. "I'm hoping to do that in September." The director is also hoping to shoot Berserkers, a feature about wild scavengers living off the coast of Chester that attack the Dartmouth Shopping Centre, sometime next year.
He's not moving furniture, but you can't say Mike Clattenburg isn't working hard.