Solar City, the renewable energy program that seeks to brings solar heating to thousands of Halifax homes, wants to expand.
In a report to be given to council this Tuesday, city staff are recommending continuing the program for three years with an expanded budget that will offer solar options for electric and space heating. The positive review comes after the end of Solar City's original 24-month pilot phase back in December.
The program tries to eliminate most of the red tape in signing up for and financing solar-powered hot water heating. The city offers to pay the upfront costs of the installations. Homeowners then pay those costs back over 10 years through an annual charge with their property tax bill. The total cost for homeowners is around $8,000, but annual savings on hot water overtake the initial investment after roughly the first eight years. Participants can see an annual savings of $425 (producing an eight percent return on investment over the projected 25 year lifespan), while the city uses the recouped costs to fund more installations.
The next phase of Solar City will see solar photovoltaic (for electricity) and solar air (for space heating) options. Both would follow the same payment system. Electric looks to cost $14,100 with a potential for $900 in annual savings (for a ROI of 5.1 percent), while space heating from solar air will cost $1,800 but generate an 8.1 percent return on investment. Staff's full estimates are below.

Nearly 400 homes are already participating, with 2,500 homeowners having expressed interest.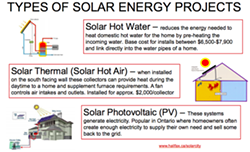 Unlike so much of the empty boasting which accompanies the phrase "world class," as far as Solar City goes Halifax is really outshining our competitors. The number of residential installations in Halifax exceeds the number of installations Canada-wide on an annual basis. The 388 residents already using Solar City heating will result (according to HRM staff) in a reduction of 16.1 million kg of greenhouse gases.
"Additionally, over 1,265 homes had water conservation measures implemented free of charge during their solar assessment and could save 320 million litres of water in the next 20 years and $120,000 annually in water and heating costs."
It's a glowing endorsement for a program Halifax almost killed before it began.
A report by consultants Grant Thornton on the Solar City's pilot phase outcomes highlight some areas the city will want to improve moving forward. Many are minor (the online registration process had some initial hiccups), and some appear as simple oversights (HRM didn't track if homeowners had any issues subsequent to installation). The cost effectiveness of Solar City, the consultant report also points out, is "subjective and dependent upon how individual homeowners define cost effectiveness."
Basically, Halifax should clean things up and solidify what this innovative (and apparently successful) program will offer as long as it continues. Staff will check in annually, and come back with a progress report for the each of the next three years. Halifax wants to hit a target of 450 solar city installations (half of those hot water heating) annually while remaining cost neutral for the municipality.
Provided it passes through council's digestive process on Tuesday, this should put money back in everyone's pockets while making Halifax just a little bit more sustainable.
The city also recently held its first "Solar Fiesta," which formally re-opened program registration for the first time. Find out more about the program and how to register right here. And hey, did you know The Coast is running its Earth Day survey right now? We'd love to hear some of your thoughts on how to make this city, country and world a little greener.