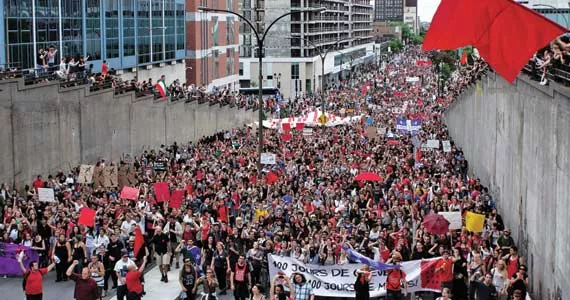 Iana Kazakova
Ou est Waldo?
As a student yourself, chances are you're likely already somewhat aware of the weird and wild reports coming out of Quebec. Protests and pot-banging, red squares and riot police, smoke bombs and demonstrators--- they're calling it a student movement.
What began as a straightforward protest against tuition hikes has transformed into something much bigger, spiraling beyond a simple student strike to galvanize people of all ages and backgrounds. It's motivated those who've never before taken to the streets. It's forced opinions on the previously undecided. It's ignited passions and it's stoked feuds.
While Halifax doesn't promise quite the same academic experience this year---for better or for worse---hitting the books on Quebec's "class" conflict may give us something to learn about higher learning itself.
In early 2012, Quebec's Liberal cabinet--- led by the province's "perennially popular" premier, Jean Charest---dropped the bomb (we'll call it a pedagogic pyrotechnic) by proposing to raise university tuition fees by 82 percent. To be fair, the change was initially to take place over a five-year period and translated to an actual dollar figure increase from $2,168 to $3,793 a year---a veritable steal of a deal by other province's standards.
Unfortunately, it was the steal part that Quebec students took to heart.
So on Valentine's Day eve, a small and unassuming group of Laval University students voted to go on strike. Then some folks over at the University of Quebec at Montreal followed suit. Before you could say "On s'en Câlisse," faculties and departments province-wide were signing up and peacing out. By March 22, over 300,000 students were on strike.
After two months of rising tensions, Jean Charest's government---in its boundless wisdom---responded by hammering through the legislature on their infamous Bill 78, which restricted assembly, picket and protest rights on campuses and in the province.
That's when la merde really hit the fan.
Up until that point Charest had been supported by a majority of Quebecers for his hard stand against student protesters. But he deftly stole defeat from the jaws of victory. By passing a piece of über-controversial legislation, criticized province-wide as infringing on such basic civil rights as freedom of assembly and freedom of expression, he succeeded in alienating the province's moderates and bolstering support for the student movement. In late May, tens of thousands--- some estimate up to half a million---of Canadians took to the streets in Montreal to demonstrate against the government.
And the drama continues.
So long as student leaders can continue conflating the conflict over rising tuition fees with the broader social movement and general disenchantment with a corrupt government, they're in luck.
Counterintuitively, continuing student protests may actually compromise the cause. Any more unpopular disruption or violence risks alienating the public and swaying popular opinion---that oh-so-fickle barometer---against students. Just one example: In late May, a cadre of more militant protestors smoke-bombed Montreal's metro system, drawing the ire of thousands of immobilized transit-users. Student leaders argue that those fringe vigilantes don't represent the movement's core.
But therein lies one of the main problems for the student movement---is there a core? Like the Occupy movement, the student movement lacks any real hierarchy and top-down organization. It can't be effectively controlled, even (especially) from within. While there do exist de facto "leaders," the movement itself defies conventional categorization.
Like all social movements, it's decentralized. While that means it can't easily be killed, it also makes negotiation a challenge.
It's downright difficult for a government to interact with such a nebulous entity. They can parley with the movement's purported leaders, but to what extent do these nominal spokespeople control their ever-shifting base? Governing body versus a social movement---a clash of institutional incompatibility. This mismatch is fuelling the discord.
And that discord is loud.
Unlike the 1960s uprising of nascent Quebec nationalism, there is nothing "quiet" about this "revolution." Inspired by Chile's anti-Pinochet casserole protests of the 1970s, a chorus of clanging pots and pans has come to characterize this populist uprising. Some of the more cheeky commentators have gone so far as to suggest that the provincial tourism department use the events as an attraction: "Come visit! Participatory marching bands staged nightly!"
The entire situation has become far more complex and multifaceted than a simple tuition debate. The no-longer-just-a-student movement has come to embody displeasure with a corrupt regime, outrage toward an unjust law and conviction about entitlement to higher education. Whether these positions are valid or not remains, as always, a point of view.
Whatever your stance, Quebec students certainly can't be accused of apathy. Historically, young people don't vote. Voter turnout for 18- to 24-year-olds during the 2008 Quebec provincial election was 36 percent. Here, however, young people have found an issue around which to mobilize.
What began as a smallish-scale protest has bloomed into a full-fledged movement, attracting street-supporters and ideological allies. For the first time since perhaps the 1960s, students and young people are helping set the agenda. They may not be universally supported, but they're making a case and sticking to their guns.
Their methods? Controversial. Their impact? Undeniable. We would call that Democracy.
But like it or not, what tends to matter in our system is turnout on election day. And unless students are able to translate support on the street into votes at the ballot box, the pro-tuition raising forces could successfully neuter the entire student movement.
So is it a group of self-entitled, middle class kids refusing to contribute to the greater social good? Or is it a threat by government to restrict access to education? The case could be made either way. At the end of the day, it warrants remembering that Quebec students now pay the lowest rates for education in Canada by far, and will continue to do so, no matter what the outcome of this dispute. In contrast, in Nova Scotia we pony up for some of the country's highest tuition fees.
So maybe there's something to learn from all this hullabaloo. Perhaps it's time to grab some kitchenware and make some noise. Who knows what could happen?