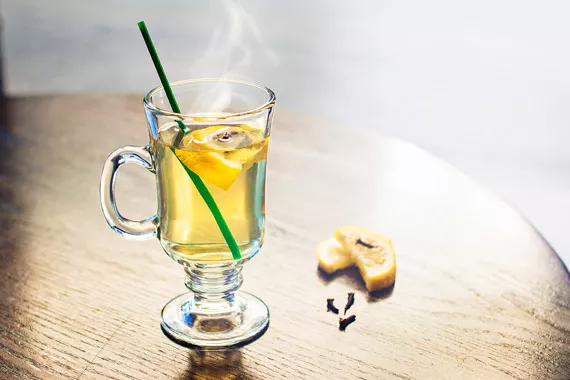 It's not quite a cold, but there's one on the horizon. Camping out in the back of your throat and all up in your sinuses, waiting for the imperfect moment pounce on your immune system. A spoonful of Buckley's, well it tastes awful. And a tall glass of OJ—or worse, a fizzy vitamin supplement a la Emergen-C—doesn't quite cut through your garbage-like feelings. But something a little stiffer would.
"It's the simplest drink possible," says Alec Austen, who was "called to the bar" in 1980. He's been pouring daytime drinks at The Old Triangle since the day it opened—November, 15 years ago—and he's talking about the nothing fancy, liquid pick-me-up, the hot toddy. "Everyone has their own version, but basically it's hot water and whiskey. That's all your really want. The rest is just to make you feel better about what you're consuming."
He's right. Literally anyone—whether or not they're capable of flipping liquor bottles or free-pouring a shot—can play doctor and concoct this boozy remedy. An easy mix of whiskey (the painkiller/tranquilizer), honey and lemon (for the throat), cloves (for congestion) and hot water (to seal the deal), The Old Triangle's toddy leaves lots of room for improvisation depending on your tastes and symptoms.
A true Maritimer, Austen says he prefers a hot rum to cure what ails him in the colder months. "I don't water down my whiskey."