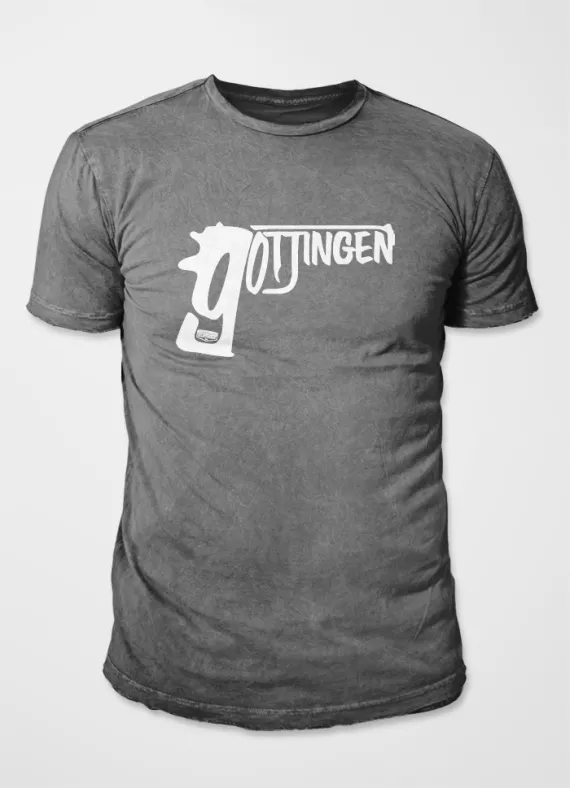 Gottingen Street is sometimes referred to as "Gotta-get-a-gun Street, and now that sentiment is available on a t-shirt (men's sizes S to 2XL) thanks to the Dartmouth Clothing Company.
According to the company, the word "Gottingen" in the shape of a gun is intended as a statement about the higher level of gun violence in that neighbourhood compared to others in Halifax.
But when local citizen Bobbi Zahra saw the design, she sent a concerned letter to the company demanding an explanation. "The more we negatively stereotype any person or place," she wrote, "the more that people accept that stereotype as a truth."
The company replied: "We are sorry that you did not find anything on our site to your liking. Hopefully some of our future designs will be more to your taste."
Zahra doesn't live on or near Gottingen, but she visits the neighbourhood frequently, sometimes for gallery openings. She says the t-shirts are an out-of-context negative generalization of the area. The design normalizes the violent aspects of Gottingen Street, she says, and fails to give equal weight to the positive.
Zahra stops short of calling the design hate speech, and she is hesitant to call the stereotype an outright falsity. Mostly she wants to know why the designer thinks the t-shirt is funny.
"It was never our intention to offend anyone and we apologize to anyone we have," says Dartmouth Clothing Company owner Eric Miller. "In recent months and years there have been a number of gun and other weapons related incidents in that area. We acknowledge that these are the actions of a select few and not that of everyone who live in the area. But that doesn't change the fact that these events did and do happen."
According to a map compiled by The Coast, the area stretching from the Common to North Street and down to Barrington experienced a high rate of violent crime in 2007 compared to other neighbourhoods on the peninsula. Gottingen Street was not exempt from this pattern.
Neighbourhoods in Dartmouth also appear to have clusters of violent crime.
"We have a Dartmouth shirt which features a baseball bat that has nails sticking out of one end," Miller said. "The reason I point this out to you is to show that there has been no effort to single out Gottingen in particular."
Zahra isn't calling for the t-shirts to be discontinued, but she would like to see some context printed on the back.
Local humourist and Picnicface member Brian Macquarrie didn't want to get caught in the crossfire, but he was able to offer philosophical comment on free speech and the limits of humour.
"What about actual guns? Get rid of some guns and EVERYONE wins. Last I checked in the debate of 'which object kills more people' guns have been beating offensive shirts by a landslide. It's no contest."
There is no question that Zhara is attempting to do some good by raising the profile of the neighbourhood in a positive way. The hardworking, creative people who live there deserve better than violent crime.
But her heart might be in the wrong place.
"I remember this exact same debate when the Simpson's released t-shirts with Bart Simpson swearing [on] it," says Macquarrie. "Ultimately, they were banned from school and people wore them anyway. I think the real tragedy here is that people are misguided in their attempts to do good."
According to comments on the Dartmouth Clothing Company's website, the gun-shaped street name has already sold a few shirts.
"I just checked on the web," Macquarrie says. "Guns have killed more people than jokes. That was also a landslide win for guns."