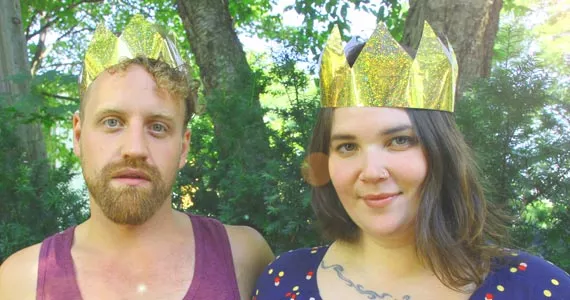 "You know those ideas you have when you're drunk and then you wake up and they're not very good?" asks Stewart Legere. "Well we woke up---separately---and still thought this was a good one."
Legere is talking about Young Hearts Run Free, an evening of painstaking recreation of the Baz Luhrmann Romeo + Juliet soundtrack, by himself and Kim Harris (and a few special guests like Legere's Heavy Blinkers bandmate Jason Michael MacIsaac and Dark for Dark's Melanie Stone and Margot Durling).
Harris and Legere settled on Romeo + Juliet after throwing around a few ideas for a special project during their daily hangouts, it could have been Dawson's Creek or Footloose, but Romeo + Juliet elicited such a strong response that they decided to go for it. "When we told people we were doing the show the response was so visceral cause of the movie," says Legere. "It's not often that you say you're playing a show and people get excited right away."
"There's like a gasp," says Harris.
Legere's theatre background might have informed the decision too. "I played Friar Laurence once, I even offered to shave the top of my head," he says.
But on Saturday acting will be put on the backburner---the music is the thing. "We'll have excerpts, very few though. Little elements to make it special, probably some kind of costume," says Legere.
Harris and Legere are great examples of creative is as creative does. They do a lot. Harris will appear in an Atlantic Fringe Festival play this year, and release her Dale Murray-produced album, Only the Mighty, in February, and Legere will perform with Zuppa Theatre Co. in October, then release his own album in February titled Sing with the birds who stay quiet the station today.
Instead of taking some downtime, they decided to fill the summer with something to challenge them creatively. "We wanted to do something really different where we had to use our brains, and we put a lot of work into it," says Harris. "I think it really sparked something in me. I just started playing music here a year and a half ago, I'm trying to throw myself into things that are a little different for me."
"I love having time off," says Legere. "But all I want to do is do different types of shows. Halifax such a small city, but with such a variety of artists, if you want to feel vibrant here you have to diversify. For people who want to see us perform it's different from the show they saw us do last week. It's a little cheeky.
"I can get a little soapboxy," Legere says. "It's a nice way to take things not so seriously."
On your way back to 1996 Verona, expect a flashback to the glory days of your teen angst (depending on your age, of course).
"It was November 1," says Legere of the first time he saw the film. "I think I sat next to Brendan O'Halloran. I still remember, I think most people do. I remember being depressed for a month, filled with teen angst, thinking I wanted to be Leo."
"I remember singing into a hairbrush, just wailing to 'Kissing You' on my bed--- probably weeping," says Harris. "As a pre-teen it just ripped my chest open."
Bring the tissues on Saturday, people.
---
Young Hearts Run Free
Saturday, August 17, 8:30pm, $15
The Company House, 2202 Gottingen
(tickets in advance at The Company House)