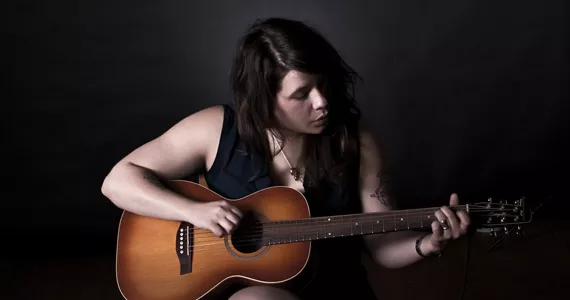 Lee-Anne Poole smiles as she picks up her guitar and begins to strum. Her rich, husky voice fills the tiny rehearsal hall on Agricola Street.
"A broken heart/Don't take long to heal/Just make your mind/It's how you feel/But when you know/They were the one/That broken heart/It stays undone."
It's pretty hard to believe that she has only been playing guitar for six months or that it's only recently she's begun seeing a real, live guitar instructor named Daniel MacCormack. (Her early lessons started with YouTube videos and progressed to the computer where GarageBand's geeky-cool presenter Tim put her through her paces.)
It's even harder to believe that she finds the prospect of performing her music in front of an audience "terrifying." But she insists that performing in her autobiographical show Country Song: a queer ballad in this year's Halifax Pride Queer Acts Theatre Festival is a very scary prospect.
"This play is about me, not a character. It's about me working things out with myself. Looking at shaking things up, scaring myself and seeing what could come of that. I look at my relationship with my dad to better understand the relationship I have with myself," Poole explains. "But I've found generally that anything that has really terrified me has ended up being good for me. And that's part of what makes me want to push myself."
The play contains half a dozen songs that Poole penned as tribute to her country music-loving father. ("It's the only music he listens to!"). And while it's put together from actual memories, she's quick to point out that memory isn't always truth, and that sometimes stories only seem real because they've been told so often.
Country Song's director Dustin Harvey sees both Poole's musical inexperience and her willingness to push through her fear as two real bonuses for the theatre audience. "Lee-Anne has a good voice and a natural gift for music, but it's really simple and human. It hasn't been polished until it doesn't live," he says. "People are going to connect with it because it's authentic.
"And I think people will be really interested in her response to fear, by the fact that her response is to take action. There's something affecting when you express and exist in the moment with no facade or shell."
Country Song is just one of five plays in this year's Queer Acts festival. The others are Litmus Road, Evan Brown's twisty take on the perfect couple; Jet Legs, a comedy/sketch/music mash-up starring Krista Davis, Megan McDowell and Margot Durling and a different special guest each night and two plays (one funny, one tragic) exploring the impact of female sexuality and identity by emerging artists Aisha Sommer Zaman and Shaista Latif as part of Queer Youth Creations.
Poole has high praise for the five-year-old Queer Acts and its place in Halifax's LGBTQ community. "Queer theatre is important to me because I'm queer. We make plays and films and stories and songs to see reflections of ourselves. To not feel so alone," she says. "We need to write and tell and document our stories. Every community does. So it's really important to have a venue for show casing that. Queer Acts has added a lot to Halifax Pride and the Nova Scotia theatre scene in the short time it's been around. I'm very thankful for it. It's been a great home for me and the audience I want to write for."
---
Country Song: a queer ballad
Thursday, July 18 to Sunday July 21 9pm, $12/$10/$35 (pass)
The Bus Stop Theatre, 2203 Gottingen Street
For a complete schedule and ticket information go to: http://halifaxpride.com/portfolio/queer-acts/