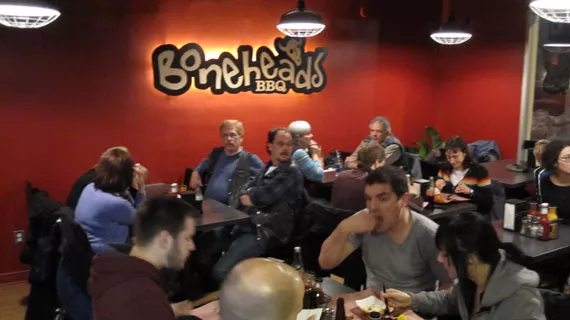 Boneheads BBQ, opening night.
If you're like us, you were very sad when
The Old Triangle
took their excellent pulled pork sandwich off the menu recently. Well, here's a little silver lining around that culinary dark cloud: pulled pork is one of the main menu items at
Boneheads BBQ
(1014 Barrington Street, near Inglis, 407-4100), opening Saturday, January 9.
The BBQ mixed grill "Pit Boss sampler"
The "Kickin' Southern Smokehouse," which Shoptalk gave you a heads up on back in November, offers unique takes on quesadillas, chili, onion rings, and every delectable meaty dish you can think of. As they say, "it don't git no better." Open from 11am-10pm Sunday through Thursday and 11am-11pm Friday and Saturday.