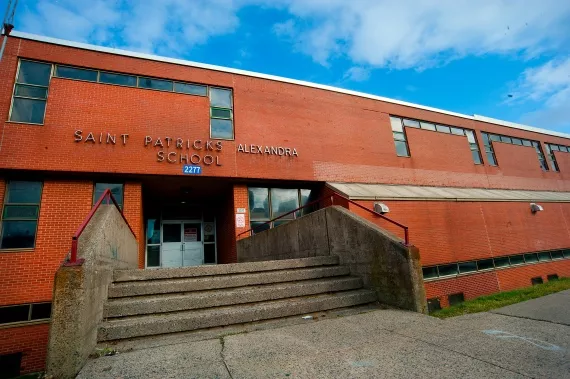 The city may have left more than just sore feelings when they dumped St. Pat's-Alexandra school. It appears staff also violated their own policy for getting rid of schools.
According to a 2000 document, the city must first ask for community pitches 90 days in advance and review them before inviting commercial bids---and any feasible proposals should be recommended to council and brought to a vote. If council doesn't support any bids or there are "no" [bold in original document] proposals from community groups then the school may then be put on the market, according to the in-camera report, "Policy and Procedures for the Disposal of Surplus Schools." Read the report here.
A little soft-shoeing is tacked onto the end of the policy saying open market sales shouldn't be considered a last resort---explaining the market value should be weighed against the benefits of other uses.
However, staff were supposed to select the school's fate in this order:  1. City use 2. Community use 3. Commercial use.
This procedure separates non-profits bids and for-profit bids from competing---as they did last week.
"They didn't follow the policy," councillor Dawn Sloane says bluntly of staff. "When policies are not followed, and things are ramshackled together as a report that's an injustice to our community and an injustice to all of HRM.
"A lot of the councillors didn't even know this policy existed." she continues. "And then to not reference it in the report that came to council is showing that they did a very slack job."
Shaune MacKinlay, the city's spokesperson, said it's too early to say if there was a violation or not. Staff are meeting today, Thursday, to compare the overlooked policy to they way they unloaded St. Pat's-Alexandra. For now, the city doesn't have any statements.
"We have to get people in a room and look at how we dealt with the RFP, and then look at the policy and see if we met some of the terms of that policy through our RFP process or see if there's something we could have done differently."
Sloane says the city only asked the North End Community Health Centre for an "expression of interest," perhaps pirouetting around another rule: The policy says community groups must be advised 90 days in advance to submit written proposals, including management structure, financial statements, a five year business plan and a statement detailing their purchase or lease offer.
On Sunday over 100 people came out to rally against the city's decision to sell the former school to Jono Developments Ltd.---an offer Sloane says likely looked peachy to the cash-strapped city.
"They're scratching to find any money they can," says Sloane, pointing to some over-budget projects such as the Washmill underpass, "Now we're seeing these issues being solved by using a community that's not allowed to have their own voice at the table. They're preying on the vulnerable."