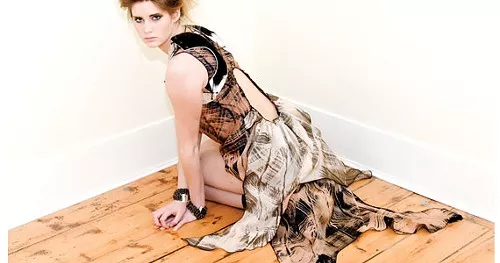 A dress from Chloe Gordon's fall 2010 collection.
Though Starfish Properties may have the ire of those frustrated by empty Barrington storefronts (read Carsten Knox's interview with Louis Reznick), the development company has been doing their best to align with the artsy crowd: first hosting last year's AGNS party in the gutted Roy building space, and now they've introduced the Starfish Properties Student Art Awards.
Nine graduating NSCAD students, of various disciplines, have been long-listed: Zimra Beiner, Chloé Gordon, Jessica Hein, Amélie Jérome, sol Legault, Noah Logan, Amanda Memme, Amélie Proulx and Zoltan Ric. Their work is being exhibited at the Port Loggia Gallery (NSCAD Port Campus), May 4-16, with an opening reception on Monday, May 3. The winner receives a $5,000 purchase prize, which will be presented at the Starfish Art Awards Gala at the Port on May 7, 7-9pm.
Gala? Our invite must have fallen under the doormat...