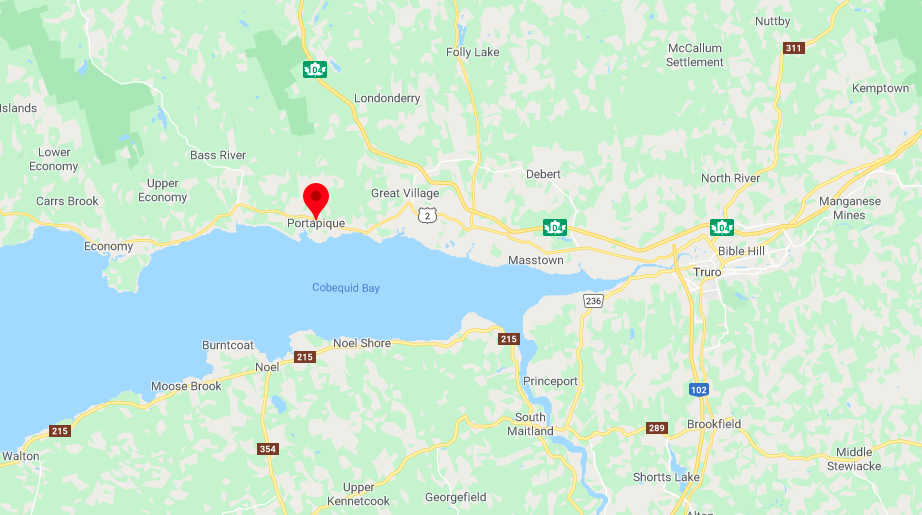 The Coast
Portapique, NS is part of the East River community—35 minutes west of Truro. The killings that killed at least 23 people began there on April 18.
Wednesday, April 29

Psychologists offering free sessions
Over 100 psychologists have
volunteered to give their time
to help Nova Scotians cope with recent events. A one-hour free session comes at $190 value, and there are further referrals for those who have been more closely affected by the tragedy.
Tuesday, April 28
RCMP continue to gather details on officer impersonation

During a press conference on Tuesday, police gave
more details
on where the gunman spent the late-night hours of April 18, including releasing a dozen photos gathered from CCTV footage. Police are working on tracking down where the gunman acquired his RCMP uniform and how he bought retired police vehicles. During this same press conference, cops
fielded a question from a gun lobbyist
relating to what weapons the shooter used.
Friday, April 24

All clear
And just before 6pm, another Emergency Alert came out. "Police report that the incidents in Omega Court, Haliburton Hills and Highland Park Heights subdivisions have ended and residents are no longer advised to shelter in place."
Shots fired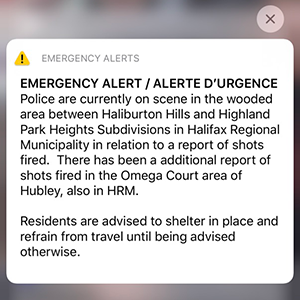 The Emergency Alert sent to Nova Scotia cell phones today on behalf of the RCMP.
Just before 2:30 this afternoon, Nova Scotia RCMP tweeted and sent an email to media about unconfirmed reports of gunshots in Hammonds Plains. Just after 4pm, came the confirmation, with reports of shots in two areas. Here's
the tweet
text: "Police currently on scene in wooded area between Haliburton Hills & Highland Park Heights Sub in relation to a report of shots fired. There has been a additional report of shots fired in the Omega Crt area of #Hubley. Residents are to stay inside #HammondsPlains #Tantallon"
This is disturbing news, especially this week. But what isn't disturbing is the evidence the RCMP has already learned a significant lesson from last weekend's shootings—an official Nova Scotia Emergency Alert about Hammonds Plains went out when the confirmation tweet did. Stay safe everybody.

Police provide a detailed timeline
At a press conference beginning at 11am, RCMP gave
a detailed timeline of events
that involved dividing crime scenes into three clusters, and providing more information about the gunman's movements, as well as the police response. They confirm that in addition to the 22 confirmed dead, three people were also injured in the course of events.
Thursday, April 23
Community to help cover funeral costs
The Municipality of Colchester held an emergency council meeting Monday evening. "Much sorrow and heartfelt sympathies were expressed along with concern for the families, friends and neighbors most affected," says a
media release
. As a result, the municipality announced Thursday evening that they would cover $5,000 of funeral costs for each victim. The municipality says they will also continue to fly flags at half-mast, and encourage anyone who needs help to reach out.
Altercation began at Saturday night party

As of Thursday afternoon,
Global News is reporting
that an argument between the suspect and his girlfriend began at a house party in Portapique Saturday evening. It got physical when the couple returned home, and the woman escaped to hide in the woods. According to reports, Gabriel Wortman then returned to the party and began his murder spree.
RCMP open tip line

Police have now created a public tip line for anyone who has more information on the weekend's incidents. It can be reached by calling 902-720-5959 or toll-free at 1-833-570-0121. "If you know something, please call and let our investigators decide the value of that information. That piece of information you have may be a turning point in the investigation," say RCMP.
Wednesday, April 22

Police planned to send Emergency Alert
At a late-afternoon press conference, Chief Superintendent Chris Leather said police
were in the process of issuing an Emergency Alert
when the suspect was shot and killed. He said they first heard from the EMO (Emergency Management Office) at 10:15am Sunday, but calls had to be made back-and-forth with the commanding officer to authorize sending an alert. Leather said overall, he was "very satisfied" with the information police issued on Twitter, as well as through door-knocking in the community of Portapique.
Tuesday, April 21

Strang says funerals must be small
Due to the current COVID-19 pandemic, Robert Strang, the province's chief medical officer, told the public that while funerals for the 22 deceased can happen, they must be kept to under five attendees and adhere to social distancing measures: "For the rest of us and for larger extended families, as I said yesterday unfortunately we're going to have to ask people to remember and to mourn virtually."
At least 22 victims
RCMP have issued
a statement
confirming the total number of victims has now risen to 22. (The release states 23, but police clarified that this includes the suspect.) The youngest victim is 17 years old, all others are adults. Police say some of the additional victims were discovered in the remains of structure fires.
Police have now confirmed the suspect was shot by police and later died. They say he was wearing an authentic RCMP uniform but have not confirmed the legitimacy of his replica RCMP vehicle. At this time, police have not said whether the event was pre-meditated or what the motive for the killings may have been.
RCMP are not providing any interviews or answering media's questions today.
Monday, April 20
Second officer identified
On Monday afternoon
RCMP held a press conference
where they said the number of victims has now climbed to 19. Some of these victims were known to the suspect, while others were random. RCMP said the number of victims could climb higher as they comb through 16 crime scenes, including at least five structure fires.
Police told the public that a second incident has been referred to the Serious Incident Response Team. RCMP also confirmed the identity of the injured RCMP officer, Chad Morrison, who has 11 years on the force. Morrison is now out of hospital and recovering at home with his family.
RCMP briefing Monday afternoon
The RCMP is giving an update about the ongoing investigation today at 2pm. The briefing is happening at Nova Scotia RCMP headquarters in Dartmouth. "We will continue to require all media who are present to respect physical distancing guidelines," says
the media advisory
. After Sunday's briefing, the first about the shootings, had some audio issues—background sounds from reporters who called in by teleconference could be heard live over the RCMP officials talking—the advisory also promises "better sound quality." Which is for sure nice, but really RCMP, you don't have to worry about it. We understand, and we've got you.
———
Nova Scotia's mental health crisis line is available 24 hours a day, seven days a week. ⁣⁣⁣It offers mental health telephone crisis support and mobile response support. ⁣Call 1-888-429-8167 (toll free) or 902-429-8167 for support.

Kids Help Phone also offers support over the phone or by text for youth and adults. Call 1-800-668-6868 or text 686868.

Check on your friends. Reach out to your neighbours. ⁣