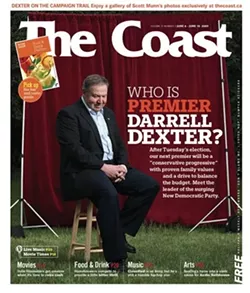 This Darrell Dexter cover story earned Stephen Kimber his first Atlantic Journalism Award.
The Coast was up for five awards at last Saturday night's Atlantic Journalism Awards. With Coast colleagues
Stephen Kimber
and
Tim Bousquet
both nominated in the feature writing category, competition might have gotten ugly. But at the awards gala the whole Coast contingent, which included Kimber, Bousquet (also nominated for
continuing coverage
) and Sue Carter Flinn (nominated for
arts and entertainment reporting
), was pulling for Kimber to win. (
Matthieu Aikins
, our enterprise reporting nominee, was off being enterprising and couldn't attend.) The Coast's senior features writer, Kimber has been a mentor to the paper from the time it was just an idea---his idea, no less---and despite his illustrious career in journalism he had never won an AJA. When it was time for the feature writing award, fears of "What if Tim beats Stephen?" momentarily gave way to "What if the other guy beats them both?" That worst-case scenario would suit the trend of the evening, which saw all other Coast nominees get the silver runner-up prize. Then Kimber's name was announced, and he went to the front of the ballroom to accept his gold award, the Susan Lucci of the AJAs no more.