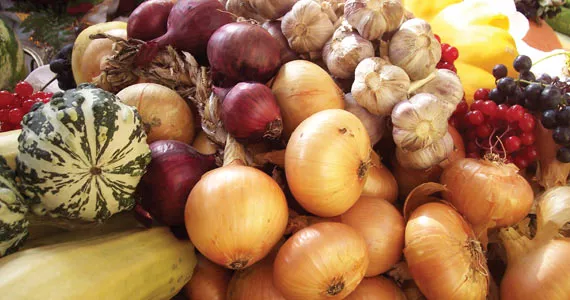 THE BASICS
"When I was a student, I figured out how to survive on an $11 per week grocery bill. Every night it was Minute Rice cooked up in the microwave with frozen corn, salsa and no-name cheese melted on top," says Jenna Durling.
It's a far cry from the healthy, seasonal comfort food Durling now sells at the Little Red Kitsch'n Saturdays and Sundays at the Seaport Farmers' Market (1209 Marginal Road).
She suggests you always keep these five handy ingredients around your pantry:
Alliums: Onions and garlic---otherwise known as alliums---are the flavour base for most dishes, from a quick pasta sauce or a stir-fry, to an elaborate bordelaise or bourguignon. It takes very little effort to extract loads of flavour from an allium---just a bit of butter or some olive oil and you're in business.
Citrus: The brightness of citrus will set your food off. Invest in a microplane and add a little lemon or lime zest at the end to your curries, Asian dishes or soups. It'll be that je ne sais quoi that really elevates even the most basic dishes.
Quinoa: Packed with protein, it's a nutritious substitute for rice with a more interesting texture to boot. Quinoa salads make fantastic, filling lunches and served warm it can be an amazing side for pretty much any type of cuisine.
Canned Beans: The workhorse of the grocery store: filling and nutritious at ridiculously low prices. Chickpeas are quickly turned in to salad with chopped vegetables and creamy cucumber salad dressing. Black beans make a quick and flavourful side when cooked up with some peppers and corn.
Gnocchi: Prepared gnocchi is now available in pretty much any grocery store beside the dried pastas. Pan-fried, it develops the texture of a gourmet tater tot thus taking gnocchi out of the simple dinner realm and opening up breakfast possibilities.
---
BOOZE
Recently named Canada's Best Bartender at Diageo World Class Canada, local barkeep Jenner Cormier clearly knows how to stock a liquor cabinet. His suggestions for five classic base liquors to have on hand are:
Whisky Rye or Bourbon: For a rye, Alberta Premium's Dark Horse is a beautiful easy drinking whisky with a nice high rye content, giving it a very robust, strong mouth feel. I would go with Evan Williams Black Label bourbon: one of Kentucky's oldest whiskey makers and one of my favourites for the price point.
Gin: Beefeater would be more of a London dry style of gin and tends to contribute as more of a background flavor in some cocktails (depending on what you mix it with). Citadelle is a more botanical forward style of gin and is great in stirred gin cocktails if you are looking for more of a spice forward flavor. Both are very affordable.
Vodka: Ketel One is one of the best vodkas on the market, no questions asked. It is a Dutch grain-based vodka that mixes extremely well and can even be enjoyed on its own because it is so amazingly balanced.
Rum: Havana Club white---a beautiful well rounded Cuban-style white rum---is affordable, and mixes so well. It is available at Bishop's Cellar. For amber rum, I would go with Flor De Cana five-year. If you are looking to spoil yourself, dip into the seven- and 12-year bottles. For dark rum I am a Goslings guy, 'nuff said.
Tequila: I would choose Cazadores Reposado for a smooth mixing tequila. It is very well-balanced, and is aged just enough that the harsh kick that most people tend to shy away from is almost lost in the background. For a tequila that will stand up a little more in a cocktail and deliver that punch, try 1800's blanco tequila that recently has graced the shelves of the NSLC.
"These are all extremely affordable choices, and are all available at the NSLC, unless noted otherwise," he says. "If anyone would like some suggestions on higher-priced or top- shelf options, feel free to reach out! I am here to help!" Seek Cormier out at The Middle Spoon (1559 Barrington Street) and, if you're in the know, Noble.
---
SPICES
Costas Halavrezos is Halifax's Spice Man, selling a selection of spices, many sourced form Montréal-based company Épices De Cru, at the Historic Farmers' Market (1496 Lower Water Street) Saturdays, 7am-1pm. There is no better teacher for a Spice 101 class.
"Build a team of really versatile blends--- balanced combinations you can use with vegetables, meat, fish or even desserts," he says. "For instance, you can scramble eggs, and depending on how you spice them, have five different flavour outcomes." To get you started, Halavrezos says you need to keep your pantry stocked with:
Za'atar: Imagine taking Herbes de Provence from the south of France to the eastern Mediterranean, picking up influences along the way, such as sumac (which gives a nice citric kick), sea salt and sesame seeds. Great on tomato and cucumber salads, chicken and haddock, or sprinkled on oiled flatbread.
Ethiopian Berberé: Great aroma during cooking, thanks to cardamom, allspice and dried ginger, and some mild heat. Melt butter with minced garlic and lemon juice, stir in the Berberé and pour it on chicken breasts to bake on a bed of coarsely chopped onions. Toss root vegetables with olive oil and a few teaspoons of the ground spices and roast 'em up.
Panch Phoran: This Bengali blend simply means "five spices": cumin, brown mustard seed, fennel, fenugreek and nigella (a tiny, nutty black seed). Use them whole, tossing a few teaspoons in cooking oil for a minute before you add stir-fry ingredients. I hand out recipes with Panch Phoran for everything from Lentil Soup to Braised Vegetable Stew and Indian Ratatouille.
Lebanese 7-Spice: With an ingredient list of allspice, clove, nutmeg, ginger, cassia (a relative of cinnamon), pepper and fenugreek, it can work with sweets as well as savoury dishes. It's perfect for things like old-fashioned bread pudding (an ideal way to use stale bread), or pumpkin and carrot muffins.
Jamaican Curry: This blend combines the food cultures of East India (turmeric, cumin, fenugreek, coriander and cloves) with the West Indies (ginger, allspice, dried Scotch bonnet peppers and nutmeg). Suitable for vegan or omnivore cuisines.
Halavrezos' new book of personal essays and recipes, Seasoned, is in bookstores this fall.
---
VEGAN
The Wild Leek Food & Juice Bar (2156 Windsor Street) has a vegan menu that ranges from pancakes to panzanella salad, and banh mi to rich vegetable soup. Chef/owner Kirsten Taggart's passion is healthy, vegan cooking---and whether you do or don't eat meat, vegan basics are always worth keeping on hand. Taggart suggests:
Rice: Basmati is one of the easier rices to cook with---it's cheap and very versatile. You can put in tortillas, soups, even stuff it in peppers!
Peanut Butter: A quick morning snack with toast, you can make cookies, or make peanut sauce by adding some lime juice and garlic. It packs a mean protein punch.
Beans: Beans are the go-to for vegans, dried or canned. Dried takes a little more pre-planning but are cheaper than canned. Black beans are wicked and chickpeas can make tasty hummus.
Ground Cumin: This is by far the best spice! You can use it to make beans and rice, or add it to chopped tomato and onion for a quick salsa. Stir it in to crumbled tofu, make Moroccan vegetable stew...mmm!
Pasta: Quick and easy! From your basic pantry, you could add chickpeas and cumin with some fresh tomatoes. a