For as long as I can recall, exploring cities and small towns by foot was an unchallenged thrill. In my youth I spent the free hours between music lessons investigating an entire university campus (St. Francis Xavier) all the while turning every door handle I came across. When I was a teenager in Wales I wandered an abandoned and almost forgotten castle from the 13th century, surrounded only by sheep. As a young adult I lost evenings to the abandoned tram lines and dark closes of Edinburgh, Scotland.
Once I finally committed to my undergrad at Mount Allison University, I walked for miles along the train tracks of marshy Sackville, New Brunswick, avoiding my school work.
There's an immediacy, a forced connection that exists for adventurers who don't use motorized vehicles. But I'm not here to make an argument against cars—that's an entirely different conversation. Instead, my intention is to woo you with the possibility of hunting down your very own treasures in our fair port city. I could wax lyrical about our museums, galleries, boutiques, historic properties and protected graveyards. I could name and circle them on a map for you as well. But that's somewhat expected. Maybe even a tourist-style exploration, and though there absolutely is a time and place for it, street art does not always thrive in tidy tourist centres.
Whether consciously or otherwise, humanity is forever on the lookout for inspiration, a force which animates us as individuals. Being both an artist and an introvert, I tend to search out stimulus while on walks by myself. Everything from initials scratched on trees, to handwritten notices on front doors. Unicorns stenciled on quiet intersections to old baskets left on porches for new owners. The scent of samosas cooking on Maynard Street, action figures stuck in chain-link fences. And finally, street art, hidden in plain sight. These are the treasures that speak to the true flavour of an urban environment.
I will perpetually argue that a lot can be said for dialogue without literal conversation. As someone who, nearing 30, is only just now coming to terms with her introversion, I cannot emphasize that point enough. Talking can sometimes get in the way of weight and meaning. There are those quiet moments in life when we are meant to receive something, be it a message, a thought, an emotion, and it flies by us because we are already caught up in a thousand other things.
And so I began having these heady "dialogues" with the city. With the houses, the dirty lots, the washed out posters and brassieres stolen from clotheslines. When I could no longer keep these conversations to myself, I began making stickers and posting them all over the city. North end cafes and downtown crosswalks began collecting my Stray Kittie street art—small cats with speech bubbles who spoke in my voice. In those areas where I'd had the greatest chat with our city, I'd put a new sticker. In alleys on my ever shifting walk to work. On streets and in parks where I had hoped that sometime during your day, your feet may bring you past this wall, and there would be something to greet you there. A moment of compassion. A moment of duress. A moment of defiance. All the same, a moment between you and this place.
Having these moments with the city streets is how we make it our own. It is how we create memories at the most base level. It is what gives a place character in our very own eyes. These are the treasures that make a city worth living in, and this is why taking the time to consider how everyone interacts with its streets is critical to nurturing community. Dialogue is our greatest tool, but we don't all talk the same. I'm going to keep making street art. What are you going to do?
---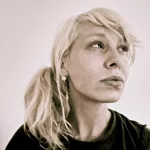 JJ Steeves is a young illustrator and street artist currently residing in Halifax. She's probably pretty tight with your outdoor cat. If you're feeling adventurous, take a gander at JJ's blog at jjsteeves.com.
Send your essay ideas for consideration to voice@thecoast.ca