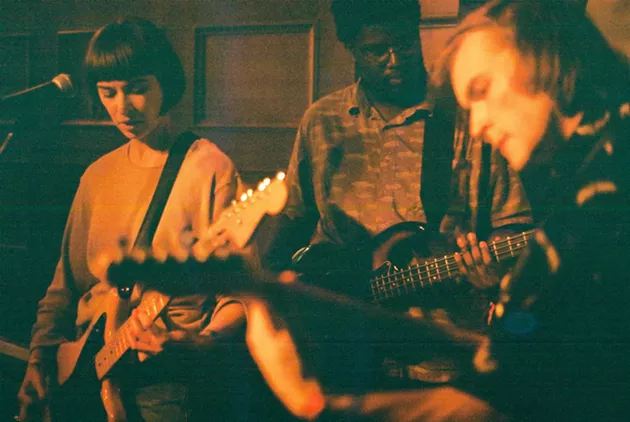 Kate Giffin
LAPS perform at HPX 2016.
James Boyle already sees Halifax as a "music city," but he thinks a live music strategy could help "make it stronger."
"It's the infrastructure that can change the city into a strong event city—or work towards corroding the reputation we have as an incredible place to visit," says Boyle, executive director of the Halifax Pop Explosion.

In January, the motion for a strategy was passed by the Community Planning and Economic Development committee. South end councillor Waye Mason put the idea forward based on a 2015 report from Music Canada and IFPI: The Mastering of a Music City.

Mason met with Boyle and other industry professionals such as Erin Benjamin of Music Canada Live (MCL) and Louis Thomas of Sonic Entertainment Group. After three other meetings, the group spoke with mayor Mike Savage and gained his support to bring the motion before the committee.

"A live music strategy for the city of Halifax, I think, is a wonderful and important and critical way for us to examine the current state and health of live music in the city," says Benjamin, MCL's executive director.

The organization was formed in 2014. Since then, it's aimed to advocate for live music across the country by raising awareness and providing resources for people in the industry.
"The goal of the organization is to entrench the economic, cultural value and power of live music."

If live music isn't taken into consideration as HRM develops its Centre Plan or Moving Forward Together Plan, says Boyle, the scene could suffer. The challenge lies in sustaining what already exists in Halifax as well as opening new venues.

"We know there's great artists and the fans are amazing. It's just—we're looking ahead to changes."

Boyle hopes the upcoming strategy will "clean up some of the bureaucracy" that makes it difficult to put on local events and bring larger concerts to the area. Audiences change and popularity shifts, but he says that's to be expected. The problem comes down to city infrastructure—"archaic" liquor laws, for example.
Having a special event license means a sectioned off drinking area, which Boyle feels only causes people to drink more in between sets.
It "only creates a scenario where people can binge drink," he says. Instead, there could be a drink limit while allowing people to "walk around an event grounds."
Boyle points out that options for underage music lovers are also scarce, as HRM is "not committing to having an all-ages space."
"We need to develop young audiences—we need to develop young people into music fans."

On top of that, people can't attend live music shows if they have no way to get there or no way to get home. Boyle feels a university city could benefit from having busses running later.
"You arrive in a city that's known for its culture, known for its music, known for its night life," he says. "You go to look at the bus schedule and the next thing you know you can't get home at the end of the night."
Even a single 24-hour route—or one that goes a few hours later—would be an improvement.

Richard McNeil, who plays keyboard for Dub Kartel, agrees that transit is an issue.

"How do you expect people to experience downtown culture if they can't get downtown without spending $40 on cab rides?" he says.

"Busses stop until midnight and all shows go until two. What's the expense in keeping, you know, select routes open the extra two and a half hours?"

McNeil says he's been playing music locally since he started living in Halifax in 2009. Another thing he notices the region is lacking is rehearsal spaces.
"Either you're getting noise complaints in your residency, or you're paying out the ass for rehearsal space with a bunch of other bands or you're lugging all sorts of gear in and out of the location all the time."

In the same vein of the recording studios at the Halifax Central Library, McNeil sees the value in a shared community space for rehearsal. Ideally, it would have considerably lower costs than privatedly-owned rental spaces, with a backline and drum kit available for use. A shared space would also allow for interaction between different musicians, strengthening the community.

"You're sharing spaces and therefore sharing experiences," says McNeil.

When it comes to cultivating live music, the onus is on the city's venues and musicians. McNeil wants the responsibility to be more evenly divided, and he believes even small changes can make a huge difference.
"It's falling 100 percent on these venues to create these opportunities for the musicians, when it should be a shared load by the venues and the city alike."