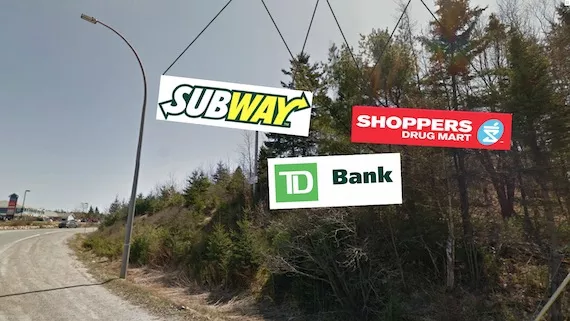 People in the Tantallon-St. Margaret's Bay community say they've been ignored when it comes to their visions for future development of the area.
At issue is city staff's recommended approval of a development at Highway 333 and St. Margaret's Bay Road. It's an addition of three commercial buildings (Subway restaurant, Shoppers Drug Mart, TD Bank) and two drive-thrus to an existing Irving station.
The community has been involved in a four-year "visioning" planning exercise led by the St. Margaret's Bay Chamber of Commerce, Tourism Association, and Stewardship Association, which resulted in drafted bylaws requiring new developments to be built around pedestrian connectivity---creating a village atmosphere with human interaction, without drive-thrus, rather than big-box stores and strip malls.
"I go to the hardware store and then the drug store; they're 50 metres apart. I drive. That's how it's designed," says Robert Ziegler, Chair of the Stewardship Association.
Halifax council was to review the proposed bylaws in October 2011. But that delay was delayed by the bureaucratic minutiae at city hall: a maternity leave, a retirement, a transfer, and the splitting of the planning department into bylaws and development applications. Unless there are more delays, council will likely see the community's bylaw proposals this February or March.
But the proposed strip mall must be considered on the existing policies, which favour old thinking about driving-centred development.
The developers, Cobalt Properties and Genivar, did make concessions, including parking areas broken up by landscaping, walking trails, paved walkways, crosswalks, some rear-building parking and bike racks.
At a public hearing on Monday, the Central Community Council voted to defer a decision so newly elected councillors Matt Whitman and Steve Craig could familiarize themselves with the issue. The matter should come back before the council next month.