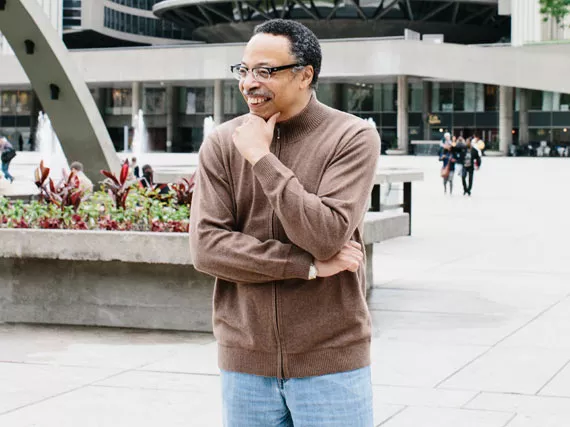 Jim Ryce
"I often get pulled aside in airports," says Clarke.
Nova Scotian George Elliott Clarke is Canada's seventh parliamentary poet laureate. He's a writer, scholar, university professor, much-travelled pundit, civil-rights advocate and a mentor to young poets and other writers.
Last year, he penned a newspaper commentary about race, prejudice and strong civilian oversight of police forces after yet another white cop in the US shot an unarmed black man.
The Windsor-born Clarke, a Toronto resident, was in Halifax recently for a public session on human rights and poetry. He spoke with The Coast about how policing in Canada differs from in America, and his own experiences with racial profiling. (Note: This interview took place before 37-year-old Abdiraham Abdi was killed in a confrontation with Ottawa police late last month, bringing about a renewed discussion on police violence in Canada.)
———
How would you categorize the current state of race relations in this country? 
Under examination. And we know that to be true because of the official report that came out just last year, which said that Canada is guilty of practicing cultural genocide against Indigenous peoples. Now, that is only one set of race relations that's being flagged. And there has been some media attention to these issues. I think that Indigenous issues are on the agenda right now in an important way. Also, the shootings of apparently unarmed black men, especially in the United States in the last couple of years, has led to some examination in Canada.
It's pretty obvious there's race-based policing in the United States. What about in Canada?
This is actually a very easy question, because the history tells us that our police forces began in terms of policing racialized populations. The [paramilitary North-West Mounted Police, forerunner of the RCMP] was formed, specifically, to assist European-based settlers moving west to take up lands as peacefully as possible, regardless of potentially the legalities of certain land seizures or, perhaps, land thefts. It's very clear the history of our policing in Canada begins with an attentiveness to race, and an attentiveness to ensuring that racialized minorities do not effectively disturb the peace.
Have you been targeted during racial profiling by police, or by retail personnel or others?
Speaking personally, sure—absolutely. I can remember particular cases here, in Halifax, or at other places around the country, of people following me around in stores or demanding to know exactly why I'm there. Even though I would think it's obvious: If I'm here, it's probably because I want to purchase something. That is not an uncommon situation for folks of African heritage. For me, the main thing is airports. Because I'm a brown-complexion guy and I have curly, black-and-grey salt-and-pepper hair, in a lot of people's minds or eyes I might possibly be Arab. And if I'm Arab, then maybe I'm a Muslim. And, if I'm both, then maybe I'm a potential terrorist. So, I often get pulled aside in airports and get subjected to further scrutiny.
Would body cameras worn by officers help prevent police abuses, including shootings of unarmed people? 
I'm not a tech wizard, but I would say that all such gadgetry that is meant to monitor potential abuses is subject to, first of all, interpretation. Because the footage can be skewed by various analysts, and of course attorneys and for that matter, prosecutors, to tell a different story than it what it might seem to the untrained observer.
Secondly, there's always the possibility that evidence can be tampered with. The technology is useful and can be helpful. On the other hand, those who really mean to suppress evidence, or tamper with evidence, will still be able to do so. I don't believe there's any panacea here for this problem—except for strong civilian oversight of police forces, which in my mind, in a democracy, should be simple. That should be Job One.
You lived and worked in the States. Does the gun culture there contribute to police shootings, killings by officers who thought they saw a weapon or perhaps said lethal force was necessary in the name of self-defense? 
I do have a lot of regard for our American cousins, and friends. Having said that, the United States remains a revolutionary culture, in my mind. Part of that revolutionary culture was, of course, the right to bear arms—which has been misconstrued by the gun lobby, absolutely. Gun culture is part and parcel of the individualist right to bear arms in the United States. That means that sometimes Americans may very well have used weapons in self-defense, to prevent themselves or their families from behind harmed by others. On the other hand, it can also be used by anyone who has any kind of grievance—legitimate or crazy, psychotic—to bear those arms and high-calibre, rapid-fire weapons against their fellow citizens, doing incredible damage. I'm not sure I've actually answered your question, except to say the gun culture is popular culture.
Interview conducted and edited by Michael Lightstone.