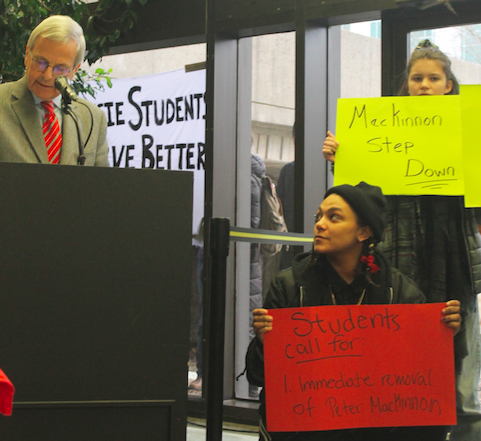 A group of about 20 Dalhousie students protested Monday afternoon at the welcome reception for the university's new interim president and vice-chancellor, Peter MacKinnon.
In a press release, the group of students say they don't believe MacKinnon's appointment was made with the university's best interests in mind.
"We feel the interests of faculty and students, especially those who are
BIPOC
, LGBTQ2S+, and/or part of other marginalized communities, have not been taken into consideration," reads the release. "Due to this, the safety of students on campus and the integrity of the university's claims to promoting equity and diversity have been compromised."
As MacKinnon began his speech at the reception, students silently emerged from the crowd holding protest signs calling for the new president to resign. Most stood directly to the right of MacKinnon's podium, while some held signs amongst the crowd. Others pressed a sign against the window from outside.
MacKinnon's interim hire was announced last year by Dal, as the school looks for a permanent replacement for outgoing president Richard Florizone. An academic and lawyer who served as the president of the University of Saskatchewan from 1999 to 2012, MacKinnon has also written several books, with his most recent publication being at the centre of Monday's action.
University Commons Divided: Exploring Debate and Dissent on Campus
, published last year, discusses a variety of controversies surrounding student protests within Canadian universities. In the book, MacKinnon is critical of students and student organizations that "extend [their] activities into the political realm."
That includes speaking out against the use of blackface, apparently. Describing several incidents at Canadian universities where white students put on blackface for Halloween costumes, MacKinnon describes the practice as having "a long history and one frequently, though not always, viewed as racist.
"These were Halloween parties, not cultural misappropriations, Nazi mimicry or manifestations of disapproval of other peoples," MacKinnon writes. "So describing them risks diminishing real problems of intolerance, discrimination and racism."
Dalhousie's new interim president also has some thoughts about the university's infamous
dentistry scandal from 2014
, stating that some faculty, student leaders and others on social media attempted to undermine Richard Florizone's handling of the situation. As
university
president, MacKinnon writes that Florizone had the most to lose from the entire ordeal.
"The neck of the university president was most assuredly on the line," states MacKinnon. "A higher number of presidents of the 96 degree-granting institutions in Canada have been fired in the past 15 years
than
have been the number of tenured
faculty
fired over the same period from among more than 60,000 in our degree-granting universities and colleges."
The students on Monday circulated a pamphlet outlining these and other views in MacKinnon's book—such as criticism of trigger warnings, condemning fossil fuel divestment and questioning the full implementation of Truth and Reconciliation recommendations—calling the interim president's views "offensive, problematic and not reflective of the expectations [they] have for university leadership."
An accompanying list of demands includes the immediate removal of MacKinnon as interim president; a public apology from the university and student union for the harm done in hiring MacKinnon; a statement of recognition from those responsible for hiring the interim president; and mandatory anti-oppression training for administration.
The press release and list of demands were read by one student (who wished to remain anonymous) after MacKinnon's speech, and after the crowd was dismissed for refreshments. Those who stayed to
listen
all appeared to be students. Administrators and staff ate snacks nearby and socialized. The divide was stark.
MacKinnon did not acknowledge the protesters at any point. He also declined to comment.