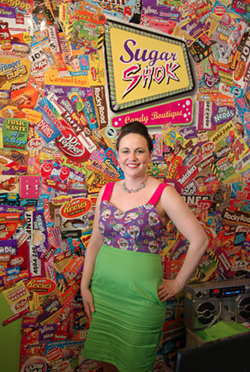 After four years in the business, owner Stacey Cayea has decided to close Sugar Shok Treat Boutique in Dartmouth.
"The numbers talk and you gotta listen sometimes," Cayea says of her financial troubles.
In the past few years, Cayea has had to sell personal belongings to get stock into the candy store.
"This year, there's nothing left to sell," she continues. "I need candy and I need Christmas items, and there's no money to do it."
Cayea says East Coast winters took a toll on the shop, as "nobody wants to go outside" and people are concerned about parking. On top of that, she feels there needs to be more support for small businesses like hers.
"It's not just downtown Dartmouth – it's downtown Halifax and everywhere that isn't a mall or a big box store," says Cayea. "People are kind of hooked on convenience and habit."
Cayea went on to say there are lots of "new, awesome businesses" opening in Dartmouth every month. She hopes the Sugar Shok's closure will open people's eyes to those places.
"I've seen a couple of comments like, 'I didn't even know this place was here,'" says Cayea. "Just go downtown – take a drive around. You're not supporting Walmart, you're supporting the guy that lives next-door to you."
Sugar Shok will remain open until the end of November, or until it runs out of stock.