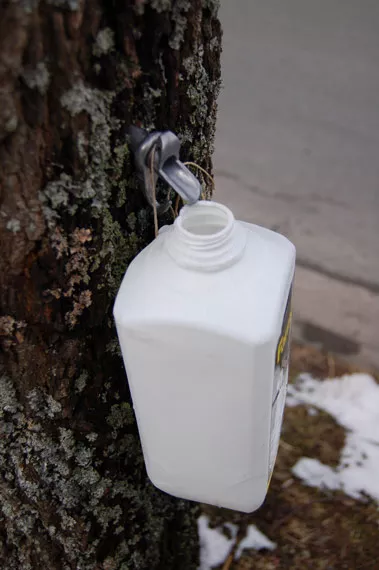 Who are the mysterious local sappers setting up a sugar shack in the city? We counted six taps in trees along Allan between Windsor and Harvard. Milk jugs were attached and sap was-a-flowing.
So who did this? We knocked on several doors and one nice lady who didn't want to be identified said off-handedly, "oh, that's the kids next door. I don't know if they know what kind of trees they are," she mock whispered to me, "but I don't mind either way."
If they start boiling it off next door, would you ask for some, I asked. "No!" she said emphatically, with a laugh.
Are there any amateur arborists out there? Are these trees sugar maples? We can't tell. More to come as we tap into this latest locavore caper.