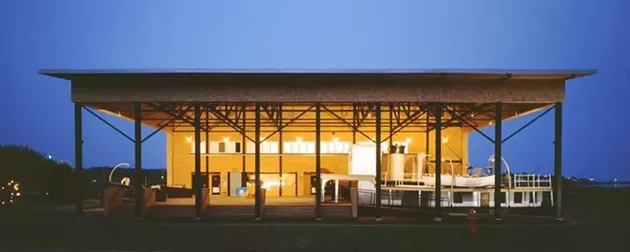 Ship's Company Theatre in Parrsboro.
The summer months are perfect for road trips. There is seafood to eat, waterfalls to trek to, and an abundance of theatre to see across the province. With over 20 shows, not including the late-summer Halifax Fringe Festival, where does one even begin? From Shakespeare by the Sea in Point Pleasant Park to Tony Award-winning musicals in Cape Breton, the Coast has some top picks to leave you satisfied with your summer theatre-going.

Who Killed Spalding Gray?
July 26-29
This is a great chance to see Daniel MacIvor remount his solo play about the legendary American storyteller who took his own life in 2004. Less than an hour from the city, the Chester Playhouse Theatre is a painfully quaint place to get away for an evening.

Pugwash
Until July 30
The world premiere of Vern Thiessen's newest play is not to be missed. Produced by Ship's Company Theatre in Parrsboro, Pugwash tells the fascinating local story of the Pugwash Conferences, and is performed in one of Nova Scotia's most beautiful theatres. Parrsboro is also charming as all get-out.

Tribe of One
Until August 11
Get yourselves to the Highland Arts Centre in Sydney to see local writer Michael McPhee's dystopian sci-fi gem, Tribe of One. It won the 2015 Merritt Award for outstanding new play and now is your chance to see it again.

Nothing Less!
Until August 19
This new play co-written by Ami McKay and Ken Schwartz about Nova Scotian suffragists is performed at Ross Creek Centre for the Arts, a beautiful arts centre in Canning. While you're there, why not also catch Shakespeare's A Midsummer Nights Dream performed around a fire. What could be better?

Stage Kiss
August 10-25
Festival Antigonish is staging this meta-theatrical play-within-a-play about actors who find art bleeding into life, and vice versa. It's written by Sarah Ruhl, one of America's most exciting contemporary playwrights, and is definitely be worth the trip to Antigonish. Stop for dinner at the Wheel and make a day out of it.